Jac witnesses Fran's evil streak!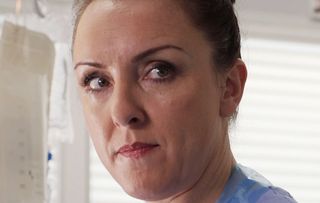 (Image credit: BBC)
Will Fran come clean to Jac about her involvement in Jasmine's death?
While Holby City fans know it was a dramatic showdown with Fran Reynolds that led to Dr Jasmine Burrows' death, Jac Naylor has so far dismissed Dr Morven Digby's theory that the nurse knows what happened to her sister.
This week, however, Jac grows suspicious when Fran reveals her true colours. Fran's working with Jac on Darwin, when a mystery man arrives badly beaten up. It soon transpires Fran knows exactly who he is – it's Daniel Brown, the man who abused her at the care home she and Jac were in as kids.
When Daniel's wallet turns up, Jac's certain he wasn't mugged and asks Fran if she knows anything about his attack, but she denies it. When Daniel takes a turn for the worse, however, Jac's thrown when Fran suggests she could help 'end' her torment… With Fran's evil streak exposed, Jac becomes convinced she was somehow involved in Jasmine's death. Jac's suspicions are confirmed when she spots Fran's note in Jasmine's book of condolence, which reads: 'I'm so sorry x'.
As Jac confronts Fran in the hospital chapel, will Fran tell her exactly how Jasmine died?
Meanwhile, Donna gets a blast from the past when her old school friend, Chevonne, is admitted onto AAU. On the surface, Chevonne's a fully paid-up WAG but it soon transpires that her marriage to a premiership footballer is on the rocks. Will fellow WAG Donna realise she needs to sort out her own marriage once and for all?
Also, Raf gets a ribbing from Fletch, who's noticed that he likes Essie a bit more than he's letting on. Fletch encourages his pal to give things another go – but will Essie feel the same way?
Get the latest updates, reviews and unmissable series to watch and more!
Thank you for signing up to Whattowatch. You will receive a verification email shortly.
There was a problem. Please refresh the page and try again.