Japan With Sue Perkins – BBC1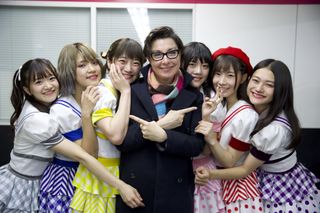 (Image credit: BBC/Folk Films)
Former Bake Off host Sue Perkins heads east and realises her lifelong dream of visiting the Land of the Rising Sun in BBC1's Japan With Sue Perkins
Presenter Sue Perkins takes a three-week trip around the Land of the Rising Sun in order to get to the heart of the real Japan in BBC1's Japan With Sue Perkins.
In a country where the ultra modern sits alongside ancient rituals and beliefs, she tries her hand at sumo wrestling, meets a family whose members share their lives with robots, and enrols at Hell Camp, a scary business school where men learn to be better managers.
'Japan is so much more exciting than I could ever have imagined,' says Sue when she first arrives in the bustling centre of Tokyo.
'It's familiar on one hand… yet it feels so alien, so other.
'I've always felt Japan was something of an enigma.'
Here, Sue, 49, picks out some of the highlights of her trip around the fascinating country...
You meet a robot family in Japan With Sue Perkins. What was that like?
I met a family who've lived with two robots for 20 years.
Toto, the dog robot, and Pepper, who can recognise basic human emotions.
It felt like they were a part of everyday life and, in a way, I can't help but find it rather strange and slightly sinister.
But they are developing robots for members of the LGBT community who don't have kids, and feel lonely and disconnected as they get older.
I find that very moving.
You had a go at sumo wrestling…
Sumo is in many ways the perfect introduction to Japanese culture.
It's more than just a national sport, it's an art form governed by a set of very intricate rituals, which represent the very essence of Japan.
The top pros are treated like rock stars.
The more you learn about it you realise it's subtle, it's finessed, it's respectful.
To participate, you need to be fast, you need to be strong but you also need quite a bit of visceral fat in order to absorb the impact.
The wrestlers are the complete package.
They are titans in nappies.
You also experienced what it is like to be in a Japanese girl band (pictured top)…
There's a huge industry of manufactured girl bands with a massive fanbase.
The girls represent the very best of Japanese youth – wholesome and hard-working – and their fans are middle-aged men.
It was almost impossible to describe the atmosphere but imagine if you put Taylor Swift in a garage and filled it with estate agents and football hooligans.
My immediate thought was, "You dirty old men!" but actually they were expressing that core Japanese value of loyalty.
They wanted to be good to the band and support the band.
This will be shown in Scotland at 10.35pm.
TV Times rating: ****
Get the latest updates, reviews and unmissable series to watch and more!
Thank you for signing up to Whattowatch. You will receive a verification email shortly.
There was a problem. Please refresh the page and try again.