Is John ready to be a parent again?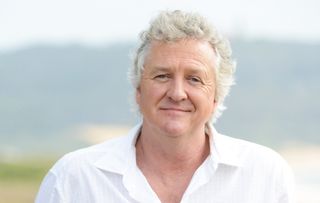 John makes a schoolboy error while babysitting Luc
John wants to make amends with Marilyn, so he gets Raffy to babysit Luc. Meanwhile, Marilyn is venting to Leah about John's tactics to change her mind about having a baby. John arrives at The Diner and the two ladies are horrified to hear John has left Luc with Raffy. Will there be a reason to worry?
Ben and Coco are having some father-daughter time at Salt, when Ben starts talking about Ziggy, leaving her frustrated. Bored of Ben's concern for Ziggy, Coco leaves and takes the bus home. However, on her way home, she bumps into Jennifer who torments her. Down in the dumps, she meets up with Raffy. The pair head to the beach, but Coco feels even worse, as she watches Jennifer flirt with VJ.
Raffy and Coco head to Salt and share a sundae, but Jennifer arrives and calls Coco names. Hurt and humiliated, Coco runs out and Raffy makes matter worse, by not being the most supportive friend. Feeling alone, Coco heads home and starts binging on biscuits and junk food. However, she starts to regret her food binge and begins to make herself sick…
Also, Hunter is dressed up to the nines to meet Wally. In fact, he's so dressed up, Olivia can't help but tease him. Will Hunter's dinner with Wally go to plan? And what's Wally hiding?
Tobi Oredein is an award-winning women's lifestyle journalist, media entrepreneur and international public speaker based in London, who focuses on race, feminism, beauty politics & popular culture. Tobi has been commissioned by Buzzfeed, British Glamour, Grazia, Elle UK, Fader, The Debrief, The Independent, The Pool, Stylist, Vice and others. She has also interviewed public figures such as Ryan Coogler, Ava Duvernay and Sir Trevor McDonald.
Get the latest updates, reviews and unmissable series to watch and more!
Thank you for signing up to Whattowatch. You will receive a verification email shortly.
There was a problem. Please refresh the page and try again.