Jordan can't accept Yvonne is dying...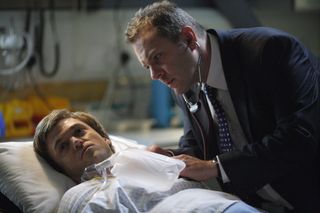 (Image credit: BBC)
Nick Jordan is single-minded in his quest to ensure critically ill girlfriend Yvonne Rippon makes a full recovery. But after a long night's vigil at Yvonne's hospital bedside - following six months of being her sole carer - the normally brilliant Clinical Lead is clearly exhausted and irrational. Police Superintendent Yvonne was viciously stabbed during the Holby riots last year, and Jordan left his job at Holby City emergency department to give her his expert care and attention. After many difficult months, Jordan remains committed to saving Yvonne's life. He confronts her consultant and insists they continue with aggressive drug treatment, which keeps her alive although her body is shutting down. When close colleague Zoe attempts to get through to Jordan, he flatly refuses to listen or accept there's nothing more he can do. To make matters worse, he's promised Yvonne's distraught mother, Diana, that he can save her daughter! Jordan finally faces up to the reality of Yvonne's deteriorating condition while there is still time for both he and Diane to say goodbye. Elsewhere, Jeff and Dixie find a young boy called Wayne being set upon by local bullies when they're leaving a hoax call-out. Back at the hospital Fletch is concerned by Wayne's behaviour after Aoife finds him stealing medical supplies. She's convinced he's just a thief but Fletch is not so sure... And he's proved right when it turns out Wayne is the sole carer for his sick mother.
Get the latest updates, reviews and unmissable series to watch and more!
Thank you for signing up to Whattowatch. You will receive a verification email shortly.
There was a problem. Please refresh the page and try again.