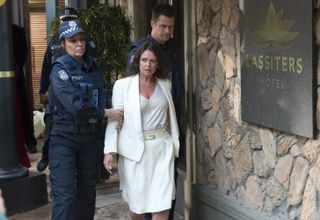 John sees Julie Quill and gets a quiver of recognition... Before he can work it out, he is called to the police station, where Mark tells him the woman who gave him an alibi for the hotel explosion has re-canted. Then he puts a photo in front of him and John is suddenly thrust into a cacophony of remembered sounds and realises his memory is returning. Mark heads down to the Lassiters' re-opening, where he arrests Julie Quill and brings her in for questioning. She recognises John Doe – and is afraid when she finds out he has his memory back. The kids are let off without being charged – but Gary still tells Sheila he's taking over as Xanthe's guardian.
Brad doesn't want go to the Lassiters re-opening but Lauren dresses up, hoping the healing process will help them both to get back on track. However, the arrest of Julie Quill in front of the gathered guests puts a new spin on things, leaving Brad and Terese to wonder if they were wrong about Paul after all.
When Paige heads to the police station on Mark's request, it all becomes shockingly clear – his true identity is revealed!
Get the latest updates, reviews and unmissable series to watch and more!
Thank you for signing up to Whattowatch. You will receive a verification email shortly.
There was a problem. Please refresh the page and try again.