Masood tells Shabnam some home truths!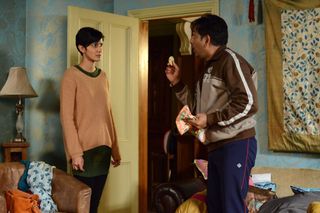 (Image credit: BBC/Kieron McCarron)
Shabnam makes a point of turning down Stacey's suggestion that they go to the Ladies' Night after Kush says he might be there. At home, Shabnam calls out Masood's feeble attempt to get out of the half marathon when he claims he's been injured. After telling Masood to act his age, Masood hits back by reminding her that everyone her age will be at the Ladies' Night, instead of moping around at home!
Shirley, Tina, Babe and Stan realise that Sylvie needs more help and debate whether she'd be better cared for in a home. Unhappy with the consensus that she'd be better off in a home, Stan drowns his sorrows. Shirley persuades Dean to pop round and cheer up his granddad. When Nancy and Lee are unimpressed to find him in the Vic, Shirley announces that Dean will be moving in.
Charlie registers baby Matthew's birth. Feeling guilty about Phil, Charlie tells the Mitchells that Nick was to blame for the crash. The stunned family get another shock when Charlie also admits he isn't a police officer. Convincing Sharon not to call the police, Charlie insists he'll hand himself in. When Roxy finds out she insists Dot would be in trouble, too. Sharon agrees but worries how to get Phil out of prison. Dot makes her way through the burnt ruins of no. 23 to speak to Nick...
Get the latest updates, reviews and unmissable series to watch and more!
Thank you for signing up to Whattowatch. You will receive a verification email shortly.
There was a problem. Please refresh the page and try again.