MasterChef: The Professionals – BBC2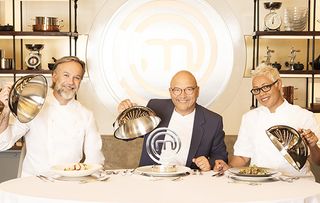 (Image credit: BBC/Shine TV Ltd)
Marcus Wareing, Gregg Wallace and Monica Galetti search for the UK's most exciting cooking talent of 2018 in a new series of MasterChef: The Professionals
If EastEnders' John Partridge breaking down as he was announced 2018 Celebrity MasterChef champion has you pining for more competitive cooking, you're in luck – the professionals' version of the show is returning this week.
In tonight's opener, tempura squid and cauliflower steak are on the menu in the skills test, before the chefs try to make up for their past mistakes in the signature dish challenge.
By the end of the judging, only three will remain…
Find out who will join them in the quarter finals tomorrow and Thursday when 12 more chefs go head to head.
Once more, the 48 MasterChef: The Professionals contestants need to amaze formidable judges Marcus Wareing, 48, Gregg Wallace, 54, and Monica Galetti, 43, (picutred top) and boy, are they tough to impress! TV Times catches up with the trio to find out more about series 11.
So what's new this time? Monica In the quarter-finals there's the Judges' Favourite Ingredient Test where Marcus and I give them a simple ingredient like a potato or egg and challenge them to elevate it to centre stage.
Marcus It sounds simple but they were surprised how complicated it is! My ingredients were potato and vanilla and Monica's were coconut and eggs, but it's mind-bending marrying in other ingredients, like fish or meat, and knowing how to season it so that the potato or vanilla is still the stand-out flavour.
Are there any innovative food trends or cooking techniques? Marcus The chefs are looking for diversity in produce, in vegetables, herbs and foraging.
Monica And we have some rather unusual ingredients – jackfruit, mugwort, dried deer heart, moss, woodruff and sandwort.
Plus there is an old traditional cooking technique – cooking in a pig's bladder! – as well as some brave cooking, including a 45-minute slow-cooked egg and a soufflé baked with ice cream inside!
Gregg But it's great when they put their machines away, no one puts anything in a water bath or gets the dry ice out or makes a sphere – it's just old-fashioned French cookery skill. I love it!
For the full interview see this week's TV Times on sale 30 October.
Please note this programme airs in Wales at 11.15pm.
TV Times rating: ****
Get the latest updates, reviews and unmissable series to watch and more!
Thank you for signing up to Whattowatch. You will receive a verification email shortly.
There was a problem. Please refresh the page and try again.