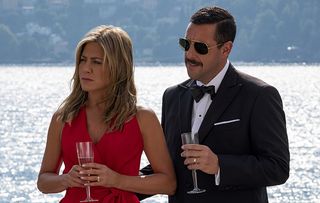 (Image credit: Scott Yamano / Netflix)
Adam Sandler and Jennifer Aniston play murder suspects in Netflix's new comedy whodunit Murder Mystery, available from today
Adam Sandler and Jennifer Aniston play murder suspects in Netflix's new comedy whodunit Murder Mystery, available from today
New York cop Nick Spitz (Adam Sandler) finally takes his wife Audrey (Jennifer Aniston, above with Adam) on a long-promised European trip to help rekindle the flame in their marriage in this new comedy-drama from Netflix.
But a chance meeting on their flight sees them invited to an intimate family gathering held on the luxury yacht of elderly billionaire Malcolm Quince (played by Terence Stamp).
The visit then turns into a nightmare when Quince is murdered and Nick and Audrey become the prime suspects in a whodunit.
Written by James Vanderbilt (White House Down, The Amazing Spider-Man), co-stars include Luke Evans, Gemma Arterton and David Walliams.
'Nick is a New York cop and Audrey works in a hair salon,' explains Adam.
'They have been married for 15 years, and Nick has finally got around to taking her on honeymoon.
'They are planning to go on a bus trip, but then they meet Charles (Luke Evans) and suddenly find themselves on this stunning yacht.'
The movie was filmed at the chic Italian resort of Portofino and around Lake Como, and the actors met up with George Clooney, who has a house there.
'I tend to stay at the hotel and do nothing after filming except play basketball and go to sleep,' says Adam, who starred with Jennifer in 2011 romcom Just Go With It.
'But one evening George invited us to cruise down to his house and have pizza with Bono.
'It was great.'
Likewise, Luke Evans says he couldn't believe his luck at filming in such a picturesque location.
'I got a lot of downtime to enjoy the local sights and take a boat out on the lake,' says the Beauty and the Beast star.
'It was a great summer.
'My family came out to celebrate a wedding anniversary, and lots of friends stayed, too.'
But the 40-year-old Welsh actor admits he was slightly starstruck working with the Friends' Jennifer Aniston.
'Jennifer kindly invited me to dinner at the house where she was staying, and I couldn't believe it when Lisa Kudrow walked in,' he laughs.
'I had one of those pinch-me moments.
'I thought, "Wow, I am with Phoebe and Rachel!"'
Get the latest updates, reviews and unmissable series to watch and more!
Thank you for signing up to Whattowatch. You will receive a verification email shortly.
There was a problem. Please refresh the page and try again.