Neighbours spoilers: Finn Kelly is under house arrest!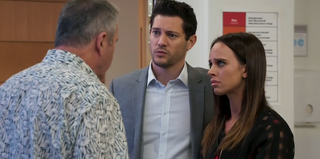 Finn's future freedom is in jeopardy following his confession to the police on Neighbours. He's officially under house arrest and could still be locked-up...
You could almost forget what a baddie Finn Kelly (played by Rob Mills) used to be on Neighbours. The former High School teacher narrowly avoided a prison sentence for his crimes because he was suffering from amnesia and couldn't remember any of the terrible stuff he'd done in the past.
However, Finn's in BIG trouble again after confessing to the police about his violent run-in with obsessed stalker Alfie Sutton.
When Alfie's police statement comes through, the twisted lad accuses Finn of having repeatedly punched him when he confronted him at the Kennedy house.
Ramsay copper Mark Brennan (Scott McGregor) informs Finn he is now officially under house arrest and must wear an ankle bracelet. And there's still a chance he could be locked-up for breaking the terms of his probation...
Meanwhile, things are rather awkward at Number 26 now Kyle Canning (Chris Milligan) and his ex-girlfriend Amy Williams (Zoe Cramond) have reunited, as they are still living under the same roof as Kyle's dad, and Amy's now ex-fiance Gary (Damien Richardson).
Will Amy pack her bags and move out to make things easier?
And there's more drama at Number 26 when Sheila Canning's (Colette Mann) fella Clive Gibbons (Geoff Paine) finds out about her involvement in the cover-up surrounding the attack on neighbour Paul Robinson (Stefan Dennis). But worse, Sheila was in cahoots with Paul to break-up Gary and Amy.
To her shock, Clive breaks-up with Sheila!
Elsewhere, Harlow Robinson (Jemma Donovan) is not impressed when sulky trouble-maker Roxy Willis (Zima Anderson) rejects an offer from her aunty Terese (Rebekah Elmaloglou) to move back into Number 22.
Fed up with Roxy's bratty behaviour, Harlow decides to confront her...
Neighbours continues weekdays at 1:45pm and 5:30pm on Channel 5
Get the latest updates, reviews and unmissable series to watch and more!
Thank you for signing up to Whattowatch. You will receive a verification email shortly.
There was a problem. Please refresh the page and try again.