Neighbours: Kyle Canning exposes Paul Robinson and Sheila Canning's SECRET sabotage!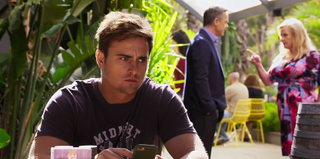 Kyle is left reeling after overhearing a conversation and discovering Paul and Sheila are out to sabotage Amy and Gary's relationship!
After confessing to ex-boyfriend Kyle Canning (played by Chris Milligan) that she is still in love with him in Neighbours, mixed-up Amy Williams (Zoe Cramond) has a big decision to make: will she now break-up with her fiancee (and also Kyle's dad) Gary (Damien Richardson)?
Amy's dad Paul Robinson (Stefan Dennis) and Gary's mum Sheila Canning (Colette Mann) are certainly hoping the couple will call it quits, as the pair have been secretly trying to sabotage their relationship these past weeks, as Paul has no intention of allowing daughter Amy to marry a "no hoper" like ex-prison inmate, Gary!
However, it looks like Paul and Sheila are rumbled when Kyle overhears a VERY interesting conversation between them...
Will Kyle tell Amy and Gary their nearest and dearest have been plotting against them all this time?
Elsewhere in Erinsborough, Roxy Willis (Zima Anderson) is still acting out, after failing to contact runaway ex-lover, Vance Abernethy.
After Roxy's business partner Leo Tanaka (Tim Kano) says he's thinking about booting her out of their business partnership at the bar, her worried Aunty T (Rebekah Elmaloglou) decides to step in to try and help.
But will Roxy take kindly to Terese's interference when she still blames her for the break-up with Vance?
Meanwhile, Paul is still trying to connect with his long-lost granddaughter, Harlow Robinson (played by Jemma Donovan). He is thrown when she once again wants to talk about her dad Robert Robinson, currently in a maximum security prison for trying to kill Paul among other crimes.
But will the unexpected discovery of an old letter Paul once wrote to Robert when he believed he was dying from cancer, help build a bridge between them?
Neighbours continues weekdays at 1:45pm and 5:30pm on Channel 5
Get the latest updates, reviews and unmissable series to watch and more!
Thank you for signing up to Whattowatch. You will receive a verification email shortly.
There was a problem. Please refresh the page and try again.