Neighbours spoilers: Leo Tanaka kisses Piper Willis!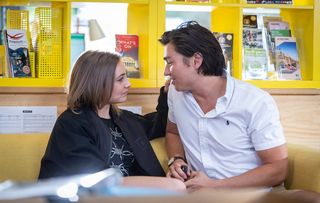 (Image credit: Jackson Finter)
As Piper tries to support friend Leo through his break-up with her mum Terese, he mis-reads the signs and tries to kiss her. Whoops!
Leo Tanaka is an emotional wreck after his very public meltdown on Ramsay Street.
Leo's dad Paul Robinson and Leo's ex-girlfriend Terese Willis struggle to know what to do, aware their new relationship is the reason for his pain and heartbreak. So it's left to Leo's twin brother David Tanaka to try and pick up the pieces and get his sibling back on track.
Terese's daughter Piper later finds a sobered-up Leo down at the Backpackers hostel he runs. She tries to take his mind off Paul and Terese with a fun game of pool.
Unfortunately, Leo mis-reads Piper's friendship for something more and, in the heat of the moment, tries to kiss her! How will Piper react?
Meanwhile, Amy Williams is still trying to help her ex-boyfriend Gary Canning, annoyed he's under so much pressure from his bossy-boots mum Sheila and all her self-help book preachings.
Gary's still holding out for another chance with Amy. However, Gary's left with a dilemma when Amy reveals the real reason she hasn't got back together with him is because of overbearing Sheila.
But has Gary got the courage to tell his meddling mum to back off?
Meanwhile, to celebrate the 40th anniversary of Prisoner: Cell Block H, watch out for guest appearances in this episode from Jane Clifton (who played Margo Gaffney), Betty Bobbitt (Judy Bryant), Jentah Sobott (Heather "Mouse" Trapp) and Jennifer Lovell (Jenny Hartley).
Since the 70s/80s prison drama was filmed at the same studio as Neighbours back in the day, the ladies appear alongside current Neighbours stars Jackie Woodburne (who was Julie "Chook" Egbert) and Colette Mann (Doreen Anderson/Burns) in a storyline in which Sheila clashes with the feisty ladies at Susan's new bookclub! Let's hope things don't get quite as rowdy as they did behind bars at Wentworth Prison!
Neighbours continues weekdays at 1:45pm and 5:30pm on Channel 5
Get the latest updates, reviews and unmissable series to watch and more!
Thank you for signing up to Whattowatch. You will receive a verification email shortly.
There was a problem. Please refresh the page and try again.