Night at the Museum - Film4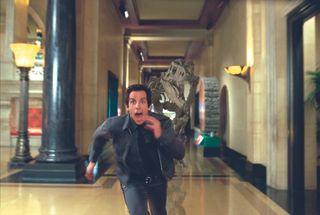 (Image credit: lemaster)
A hilarious treat for the family. 4/5 stars
Ben Stiller gets a big shock when he takes a job as night security guard at New York's Museum of Natural History - after hours, all the exhibits come to life!
The special effects are thrilling as a scary giant T-Rex comes thundering after him, while whole tiny armies of Mayans, Roman gladiators and cowboys wage epic battles around him.
Robin Williams adds his usual charm as friendly President Teddy Roosevelt and a mischievous monkey provides many of the laughs. The appealing stars have a lot of fun with the entertaining idea and Steve Coogan and Owen Wilson are a hoot as a bickering Roman soldier and cowboy.
There's also fine support from veterans Dick Van Dyke and Mickey Rooney and Ricky Gervais is the museum boss.
All in all, a night to remember.
Get the latest updates, reviews and unmissable series to watch and more!
Thank you for signing up to Whattowatch. You will receive a verification email shortly.
There was a problem. Please refresh the page and try again.