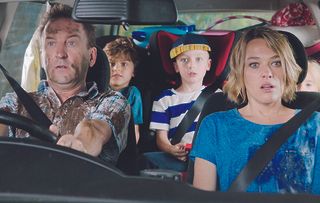 (Image credit: BBC/Avalon)
Not Going Out has always been one of those sitcoms with the 'com' taking place pretty much in one 'sit' – originally a flat, now the open-plan downstairs of a house
Not Going Out has always been one of those sitcoms with the 'com' taking place pretty much in one 'sit' – originally a flat, now the open-plan downstairs of a house.
This week it's all going on in the family car on a drive to the ferry port to attend Lucy's cousin's wedding in France. In the front, Lee and Lucy are bickering about the height of the car, with the subtext 'Remind me why I married you?'
In the back, Benji is horribly carsick, Molly is trying to play 'I Spy' on her own and Charlie has a sound-effects box that specialises in impending doom. Listen out for Lee Mack's Would I Lie to You? co-star Rob Brydon in a 'guest voice' role.
Thank you for signing up to Whattowatch. You will receive a verification email shortly.
There was a problem. Please refresh the page and try again.