Phil Mitchell makes a shock decision!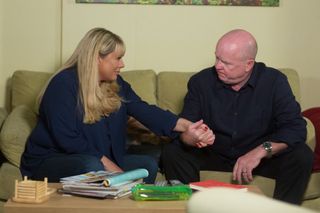 Phil Mitchell has something important to tell Sharon about the future...
Phil Mitchell is stunned when he gets an offer on the car lot land and it's a huge amount of money. Suspicious that all is not as it seems, Phil shares his concerns with Kathy. After considering his options, Phil tells Sharon that he's decided not to sell, as he wants to do right by the family. Phil visits Ben and tells him he's leaving him the Arches, while the car lot land will go to Jay.
Things are still a bit frosty between Mick and Linda, but Linda ploughs her energy into sorting out the staffing situation. When she decides to give Keanu a trial shift, Fi can barely hide her irritation. Annoyed by Linda's attitude, Fi confronts Linda, who unexpectedly opens up to Fi.
Carmel is hopeful when she invites Max to go on the group holiday with her. Max, of course, ends up leaving Carmel hanging as he secretly checks out the idea with Fi. After a run-in with Kush, Max tells Carmel he'd be happy to accompany her. Delighted, Carmel blurts out that she loves him!
Also, Bex's teacher Gethin becomes the newest resident of the Square as he moves into a flat at No.5.
Get the latest updates, reviews and unmissable series to watch and more!
Thank you for signing up to Whattowatch. You will receive a verification email shortly.
There was a problem. Please refresh the page and try again.