Casualty spoilers: Robyn and Glen's wedding ends in disaster!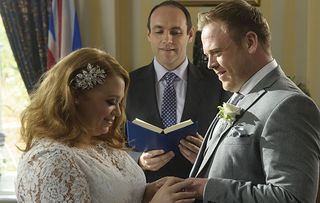 (Image credit: BBC / Alistair Heap)
Casualty nurse Robyn Miller and hospital porter Glen Thomas's happiest day could be their last together…
In this week's Casualty all eyes on are Robyn and Glen.
It's finally nurse Robyn Miller and hospital porter Glen Thomas's wedding day. Their second wedding day! The couple have had their fair share of troubles, so everyone's hoping for a happy ending.
Robyn's reined in the wedding plans this time round and a small, simple ceremony is planned with Charlie, Duffy and baby daughter Charlotte in attendance.
Sadly, disaster strikes before they get to the altar when Glen suffers a severe seizure while alone. Wild with worry he nips over to Holby ED and confides in brilliant doctor Dylan Keogh. Dylan runs a series of tests and has bad news for the groom-to-be… Glen's brain tumour has spread and Dylan wants to admit him immediately.
Glen, however, has other plans… Will his determination to marry Robyn cost him his life?
Elsewhere, doctor Elle Gardner's enjoying life without having to worry about her son Blake. On the morning of her shift at Holby ED she turns to pal Alicia for a morning-after-pill prescription. But Elle's attempts to hide her antics from Blake's dad, nurse Jacob Masters, fail when he finds out that Elle has been having a good time while he's at home helping Blake with his homework!
Jacob and Elle have a furious row. Will the former best friends be driven even further apart?
Meanwhile, Gem and Rash's cute, stumbling romance continues. When Gem turns up to work dolled up to the nines, will Rash conquer his fear of flirting and finally ask her out?
Speaking of flirting, Gem and Rash should consider getting lessons from paramedics Iain and Sam, who seem to be growing closer by the minute!
Also this week, Louise and Alicia work together on a difficult case. They suspect patient Niamh is hiding an eating disorder, but is there more to the story? Is Bea about to undertake some ill-advised meddling? And Jacob makes a shock decision about his commitment to teenage son Blake.
Get the latest updates, reviews and unmissable series to watch and more!
Thank you for signing up to Whattowatch. You will receive a verification email shortly.
There was a problem. Please refresh the page and try again.