Robyn shocks Glen – can she ever forgive him in Casualty?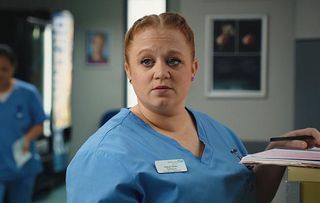 (Image credit: BBC)
When hospital porter Glen Thomas proposes to nurse Robyn Miller she says no!
Nurse Robyn Miller has been through the mill in recent years. First her fiance Glen Thomas left her at the altar while she was pregnant. Months later she nearly lost her baby girl Charlotte in childbirth. Then, last November, Glen made a shock return revealing he'd had risky life-saving brain surgery and wanted to make amends! Since then Robyn has tentatively taken Glen back. Yet she's understandably cautious when it comes to fully letting Glen into her and Charlotte's life…
This week, while trying to get Charlotte a nursery place, Glen insists on called their child Charlotte Thomas instead of Miller, which Robyn is quick to correct. Fuelled by the desire to have the same name as his daughter Glen spontaneously proposes, only for Robyn to turn him down!
Can Glen convince Robyn to change her mind?
Elsewhere, acting clinical lead Ethan Hardy impresses his colleagues by starting his working day at 5am. Even senior nurse Jacob Masters is eating his words! Meanwhile, Alicia and Ethan agree to keep things professional at work, after last week's romantic rekindling of their relationship.
Frail Connie Beauchamp is having chemotherapy in the hospital and demands to see Ethan. At first Ethan avoids Connie's calls - until he discovers she's directly interfered in his management of the ED! Furious Ethan confronts Connie, who's scathing of Ethan's clinical lead decisions…
Later the hospital's finance managers make a surprise appearance in the ED. Afterwards Ethan makes drastic cuts to make ends meet, which isolates him even further from his colleagues. When Alicia challenges Ethan's decision their romance quickly turns sour… Will she write up a new anonymous blog post on Rage in Resus?
Also this week, dedicated doctor Elle Gardner quietly cares for a DNR patient in a touching guest story.
Get the latest updates, reviews and unmissable series to watch and more!
Thank you for signing up to Whattowatch. You will receive a verification email shortly.
There was a problem. Please refresh the page and try again.