Ronnie gets a rude welcome when she comes home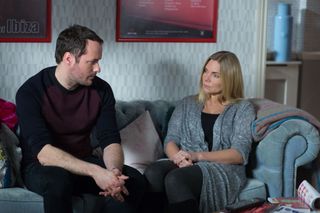 (Image credit: BBC/Jack Barnes)
Charlie is shocked by Vincent's claim that Ronnie is in love with him, heading to the hospital to confront her. Before he can speak to her about Vincent, Ronnie reveals that she's coming home today. After taking Ronnie back to the Square, he finally broaches the subject of Vincent. Ronnie turns it back on Charlie, revealing she knows he slept with Roxy. With everything out in the open, the couple agree to a fresh start. Later, Phil tells Ronnie they need to sort Vincent once and for all.
Phil tells Claudette about Vincent's run in with the police. Refusing to take the bait, Claudette instead warns Vincent to steer clear of Phil. Infuriated by Phil's stirring, Vincent tries to get one up on Phil, saying he wants money to stay quiet about Carl. After Ronnie calls him to the Mitchells, Vincent is stunned when they ask for a truce. Vincent agrees - as long as he gets The Albert...
Masood is desperate to make up with Shabnam but she continues to be cold with him. When Kush tells Masood to stop moping and bring his family back together, Masood gets an idea. The family are surprised when Masood announces that he's going to reopen the market stall.
Get the latest updates, reviews and unmissable series to watch and more!
Thank you for signing up to Whattowatch. You will receive a verification email shortly.
There was a problem. Please refresh the page and try again.