Skyscraper - Sky Cinema Premiere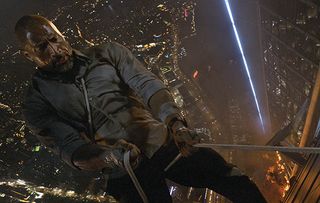 (Image credit: Universal Pictues)
Dwayne Johnson is the perfect action star to be on hand when the world's tallest building is set on fire
Dwayne Johnson is the perfect action star to be on hand when the world's tallest building is set on fire.
In this Die Hard meets The Towering Inferno, he's a former FBI and US military veteran who has to nab the bad guys, rescue his family and clear his name after he's framed for the crime.
That's a tall order for any hero, but Johnson has a harder task than most - he lost half his left leg in an explosion 10 years earlier, the event that made him quit the Bureau and set up shop as a security expert. Not that this stops him leaping into the blazing skyscraper from a giant crane when push comes to shove.
The hi-tech building is the creation of a Hong Kong tycoon (Chin Han) who has made some deadly enemies, and Johnson and his family have only just moved in when the bad guys commit arson, trapping his wife (Neve Campbell) and twins (McKenna Roberts and Noah Cottrell) inside.
All this is nonsense on stilts, of course, but Johnson's towering charm will keep you hanging in there.
Get the latest updates, reviews and unmissable series to watch and more!
Thank you for signing up to Whattowatch. You will receive a verification email shortly.
There was a problem. Please refresh the page and try again.