Snatch - Sony Movie Channel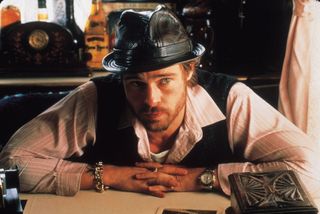 A fast-paced, funny and violent British gangster film from writer-director Guy Ritchie. 4/5 stars
Director Guy Ritchie follows up Lock, Stock & Two Smoking Barrels with another another grungy and disreputable London gangster black-comedy thriller.
Hard man Vinnie Jones (as Bullet Tooth Tony), Jason Statham (as Turkish) and most of the old gang are back.
This time, it's virtually plot-free, although it has a set-up - the aftermath of an Antwerp diamond heist - as rival factions gleefully crunch bones while trying to end up with an enormous diamond.
Trash with flash, it has style, pace, energy - and it is funny, though nasty, too.
The Hollywood imports give the home team a good run for their money: Benicio Del Toro and Dennis Farina make their mark, while Brad Pitt is impressively hilarious as a fast-talking Irish gypsy boxer.
Get the latest updates, reviews and unmissable series to watch and more!
Thank you for signing up to Whattowatch. You will receive a verification email shortly.
There was a problem. Please refresh the page and try again.