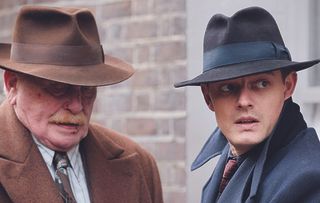 (Image credit: BBC/Sid Gentle Films Ltd/Laurie)
This week in SS-GB, at last, Archer, Harry and Sylvia put their squabbles behind them and pull together to carry out a daring mission to save the king
At last, Archer, Harry and Sylvia put their squabbles behind them and pull together to carry out a daring mission to save the king.
After breaking him out of hospital, the trio must avoid road blocks, spot traitors and even mend a punctured tyre as they attempt to get the monarch to a remote airbase and freedom. But Archer keeps wondering: is he walking into a trap?
Is he just a pawn in a private battle between dastardly Nazis Huth and Kellerman?
Meanwhile, Barbara languishes in German custody. The finale motors along at a right pace and you're unlikely to guess which way the labyrinthine plot will take you.
Thank you for signing up to Whattowatch. You will receive a verification email shortly.
There was a problem. Please refresh the page and try again.