Straight Outta Compton - Channel 5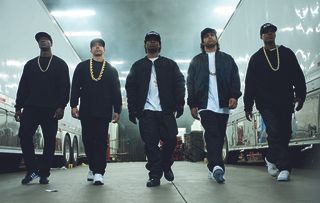 (Image credit: © Universal Pictures)
Jason Mitchell stars as Eazy-E, founder member of notorious rap group NWA in this celebratory biopic
Jason Mitchell stars as Eazy-E, founder member of notorious rap group NWA in this celebratory biopic.
It chronicles the angry and defiant pioneers of gangster rap from the gritty streets of LA's Compton in the late-1980s to fame, fortune and fallings-out in the early-1990s.
Opening with the rattling noise of a police helicopter flying overhead, the movie immediately grabs us with its depiction of the world of gangs, drugs and police violence, out of which the group's urgent, confrontational songs emerged.
In the very first scene, a police tank rips apart the house in which Eazy-E has been transacting a fraught drug deal. Strikingly, it is the proceeds of his dealing that subsequently funds the band's label, Ruthless Records, and it is his macho bravado and street swagger, as much as the musical and lyrical skills of fellow bandmates Dr Dre (Corey Hawkins) and Ice Cube (O'Shea Jackson Jr, playing his own father), that proves crucial to NWA's early success.
The film is at its most compelling when the band's adversaries are the authorities, with a standout scene coming when the musicians find themselves roughly harassed by the police while taking a break outside a recording studio in a predominantly white neighbourhood.
The film's energy level sags in the second half when the band are at odds with each other and manager Jerry Heller (Paul Giamatti), with the narrative becoming bogged down in contract wrangles and royalty disputes.
However, like the band itself, the movie leaves a powerful mark.
Get the latest updates, reviews and unmissable series to watch and more!
Thank you for signing up to Whattowatch. You will receive a verification email shortly.
There was a problem. Please refresh the page and try again.