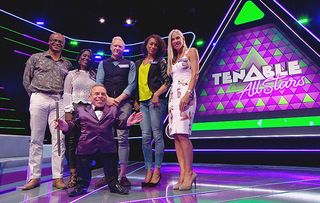 Host Warwick Davis is chuffed to be hosting Tenable All Stars, the three-part celebrity spin-off series of his popular ITV quiz show…
Host Warwick Davis is chuffed to be hosting Tenable All Stars, the three-part celebrity spin-off series of his popular ITV quiz show…
In the first of three celebrity specials, Olympians Tessa Sanderson, Sharron Davies, Iwan Thomas, Jade Johnson and Kriss Akabusi join Warwick Davis (all pictured above) for a special game of Tenable.
Calling themselves 'The Medal Heads', they'll attempt to win a whopping £125,000 by answering 'Top 10' list-style questions for their chosen charities.
But will they be distracted by Warwick's snazzy showbiz jacket, the new theme tune, or the host's pocketbook full of priceless puns?
Here, Warwick, 49, tells TV Times what we can expect about this new spin-off series…
Tenable gets its first celebrity version this week – what's in store for viewers?
Yes, it's our first Tenable All Stars and it's lovely having celebrity teams playing for charity.
We've made quite a number of shows in the regular format [140 episodes at last count] and a celebrity version is something I've thought about since we started, but I didn't realise how well it would work out.
It adds a new layer to watching it because you kind of know the people playing.
There are three celebrity teams – Olympians, I'm a Celebrity… stars and politicians. How well did they play?
I always want the teams to win anyway, and as these guys are playing for charity, I was trying to be as helpful as possible – but sometimes there was no helping them!
They're all used to being in the limelight but something made their brains go to mush when they got up there and started paying the game!
I was surprised by some of the answers we ended up getting – it was quite a revelation.
What stands out from filming?
As you can imagine, the celebrity shows take longer to record than regular ones.
And the I'm a Celebrity… special took the longest.
In the middle of it, the fire alarm went off and we had to evacuate the studio.
It gave me a breather – and I needed one!
We also have a new All Star theme tune with lyrics.
I had to do a few different takes when we started recording because it's very camp and made me giggle!
TV Times rating: ***
Get the latest updates, reviews and unmissable series to watch and more!
Thank you for signing up to Whattowatch. You will receive a verification email shortly.
There was a problem. Please refresh the page and try again.