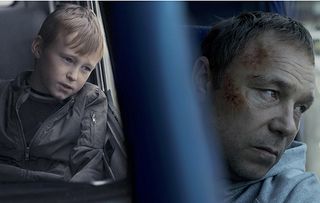 The Virtues stars Stephen Graham as a recovering alcoholic who falls into despair when his ex takes their son to Australia for a better life
The Virtues stars Stephen Graham as a recovering alcoholic who falls into despair when his ex takes their son to Australia
Stephen Graham should clear his shelves for the numerous awards that are likely to be heading his way, as, after his stellar turn in Line of Duty, he is on equally spellbinding form in a very different role as deeply troubled Joseph in this powerful four-parter created by This Is England's Shane Meadows.
Already traumatised and haunted by his childhood growing up in care, recovering alcoholic Joseph is bereft when his ex-partner takes their son to live in Australia.
But after an epic drink-and-drugs binge with strangers leaves him in despair the following day, he makes a monumental decision to head to Ireland to confront his unsettling past…
TV Times rating: ****
In an exclusive interview, Stephen, 45, chats to TV Times about working with Shane again after previously collaborating on the award-winning This Is England
What is The Virtues all about?
It's about a man who has been sober for two years but when his son is taken away, it destroys him. He has a drink and his repressed memories return. His son being taken away reminds him of how his sister Anna [played by Helen Behan] was ripped away from him when they were in care, and when he sees her again in Ireland, all his emotions flood back. He starts piecing together his life.
Is this one of the most challenging roles you have ever taken on?
Yes, because normally people perceive my characters as violent or aggressive villains, but Joseph is a quiet everyman and a sensitive soul who just doesn't quite understand. It has been great to try to find that side of the character.
Shane based the story on a dark incident in his own life and always wanted you for the role. Did that make it extra special?
Definitely. I felt an obligation and a duty of care to make sure I got it right. For someone like Shane, who I admire so much, to come to me was an absolute privilege. You feel a connection with that other person when they are giving you their heart in your hands.
Get the latest updates, reviews and unmissable series to watch and more!
Thank you for signing up to Whattowatch. You will receive a verification email shortly.
There was a problem. Please refresh the page and try again.