Thor: Ragnarok - Sky Cinema Premiere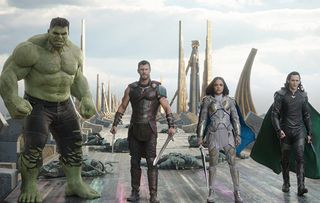 (Image credit: ©Marvel Studios 2017)
Chris Hemsworth's brawny, brawling thunder god Thor returns for his third solo adventure
Chris Hemsworth's brawny, brawling thunder god Thor returns for his third solo adventure.
Not only is this his best outing to date, but it's also the funniest superhero movie yet, which might come as a surprise given that the plot revolves around the end of the world.
Cate Blanchett's slinky goddess of death, Hela, Thor's hitherto unknown older sister, has been banished for 5,000 years. Understandably, she's in a mighty strop and bent on bringing about Ragnarok, Norse mythology's equivalent of Armageddon.
To prevent her, however, Thor must first escape from the planet Sakaar, where he has been stranded along with devious brother Loki (Tom Hiddleston). Held prisoner by Jeff Goldblum's campy ruler Grandmaster, Thor has to slug his way out of the planet's gladiatorial arena and a heavy-hitting contest with Mark Ruffalo's befuddled Hulk.
As we've come to expect, the CG effects here are as pumped-up as Thor's muscles. But it's the comic byplay between the battles that prove the film's most enjoyable feature.
Credit must go to the man at the helm, New Zealand writer-director-performer Taika Waititi, maker of vampire mockumentary What We Do in the Shadows and offbeat culture-clash comedy Hunt for the Wilderpeople. It's easy to detect Waititi's hand in the film's quirky comic sensibility, and he also delivers a scene-stealing motion-capture turn as rock monster Korg.
Blanchett, Hiddleston, Goldblum and Tessa Thompson, as drunken bounty hunter Valkyrie, all do their bit. But it's Hemsworth who is mostly responsible for the film's tongue-in-cheek hilarity and nails its best jokes with impeccably timed deadpan aplomb.
Thank you for signing up to Whattowatch. You will receive a verification email shortly.
There was a problem. Please refresh the page and try again.