This Time Next Year: Weight Loss Special – ITV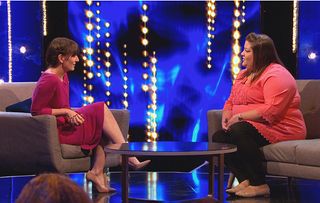 (Image credit: ITV)
Davina McCall gives members of the public a chance to tackle a personal challenge, in a new run of This Time Next Year, beginning with a weight-loss special
This Time Next Year returns where Davina McCall gives members of the public a chance to tackle a personal challenge
Davina McCall meets more people determined to turn their lives around in this new series of This Time Next Year.
Episode one looks at the subject of weight loss with wannabe dieters pledging to shed the pounds for various reasons, including Fiona (pictured top), who wants to lose 8st to have fertility treatment and Mike, who hopes to reverse the effects of type 2 diabetes.
There's also Paul and James, who vow to lose 20st between them, and Tracey, who has pledged to lose 10st and be married within 12 months. But when the going gets tough, will they be able to stick to their diets?
TV Times rating: ***
In a TV Times exclusive, Davina, 51, tells us more about This Time Next Year and reveals her own resolution for 2019…
The first episode has lots of weight-loss stories...
People want to lose weight for all sorts of reasons – to have a baby, to renew their wedding vows, to reverse type 2 diabetes.
The people who achieve it are the ones who are prepared to put in the hard work.
Other people want to just eat a bit less, do a bit of exercise and still expect big results. That's never really going to work.
It's important we show people not achieving their goals…
Sometimes they don't lose the amount of weight they want to lose, and it's good to hear those stories because that happens in real life. Stuff happens that gets in the way and you fall off the wagon a bit.
I meet the most inspirational person this series…
Lynsey was really young and she'd had a tough time. She'd been in care and I think people had probably looked at her and thought she won't amount to anything, but she wanted to become a police officer.
I found Lynsey enormously inspiring because she was using her past to drive her forward. She is the gutsiest person I've ever met.
The outcomes are kept secret…
I can't keep in touch with the participants during the rest of the year because it has to be a surprise for me, too.
I love seeing the confidence people build over the year. They always walk out of the door looking slightly different than they did walking in.
I want to be a personal trainer…
I made a New Year's resolution last year to become a PT. I have become a fitness instructor, which is the first half, but I couldn't fit in the second half.
This year, I really want to finish that off. I feel like it's unfinished business.
Get the latest updates, reviews and unmissable series to watch and more!
Thank you for signing up to Whattowatch. You will receive a verification email shortly.
There was a problem. Please refresh the page and try again.