Casualty spoilers: Tragic wedding day death! Is it Glen? Or Robyn?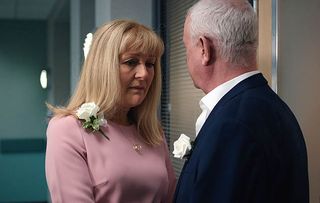 (Image credit: BBC)
Emotions are running high in Holby ED when a beloved staff member tragically dies… Warning: Contains spoilers
Shock scenes greet Iain Dean and Sam Nicholls when they attend a road traffic accident this week. Far from being a routine job the shocked paramedics realise their newlywed co-workers Robyn and Glen Miller need help, fast.
Last week viewers saw Robyn and Glen leave for their honeymoon, only for Glen to have a seizure en route, resulting in a horror car crash. This week it's a race against time to get them to Holby ED…
When the couple are admitted to the ED Glen undergoes urgent tests, discovers his brain cancer has spread, and is told he only has days to live – at the most. Distraught and scared, Robyn's desperate for him to undergo a risky, intrusive operation to buy them more time. Glen, however, is in excruciating pain wants to die with dignity with his loved ones around him…
Can Robyn (Amanda Henderson) accept the inevitable before death tears them apart? And, will Robyn slow down long enough for doctor Elle Gardner to treat her too?
Elsewhere, junior doctor Bea is convinced senior doctor Dylan Keogh is drinking on the job!
Bea asks to shadow Dylan for the day, as she's worried he may harm patients. Later, Bea publicly questions Dylan's professional judgement and tells his ex-wife Sam about his alcoholism. Unfortunately, half the hospital, including Dylan, overhears Bea blurting Dylan's private business.
Later, Sam confronts Dylan in his office, and the former husband and wife have a full-on showdown about Dylan's drinking, Sam's cheating and their failed marriage!
Meanwhile, Ethan is forced to intervene in a patient case, leaving Bea with egg on her face.
Also this week, David discreetly and kindly extends the hand of friendship towards Dylan. Charlie and Duffy are towers of strength for distraught Robyn and dying Glen. Louise is furious at Bea's indiscretion. And Dylan puts his problems aside in order to support Robyn in her time of need…
Get the latest updates, reviews and unmissable series to watch and more!
Thank you for signing up to Whattowatch. You will receive a verification email shortly.
There was a problem. Please refresh the page and try again.