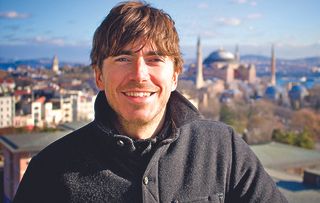 (Image credit: BBC/Jonathan Young)
Simon Reeve explains why Turkey is one of the world's most interesting countries in this eye-opening two-part travelogue
Simon Reeve explains why Turkey is one of the world's most interesting countries in this eye-opening two-part travelogue.
Tonight, journeying from Istanbul to the Aegean coast and on to the Syrian border, Simon discovers how the holiday hotspot is becoming a country divided by an increasingly authoritarian regime following a failed coup last July.
He visits Syrian refugee camps and witnesses the war raging just a few miles away, meets a billionaire businessman who's cashing in on Turkey's booming economy and talks to a builder working on one of the world's biggest mosques.
A fascinating tour of a captivating, conflicted country.
Thank you for signing up to Whattowatch. You will receive a verification email shortly.
There was a problem. Please refresh the page and try again.