Will Billie let Kat fall?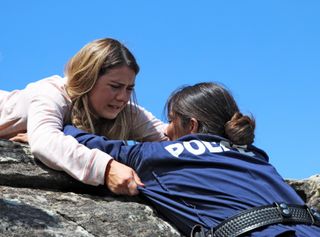 Kat is dangling from the cliff, as Billie tries to help her up. With Kat's life on the line, she chucks Billie her radio to call for help. Alf receives the message and he, Ash and Phoebe rush to the cliff. By the time they get there, Billie has pulled Kat out of danger, but won't say a word.
Nate assures Ash that Billie will be looked after in the city hospital, as she is being referred to a psychiatrist. Ash picks up Billie's belongings but, when he reads her diary, he's horrified by what he sees. Later, Ash reassures Billie she's not a bad person.
Feeling guilty about his lack of finances, Zac feels even worse when VJ is given giving Jett's old job and Oscar starts up his tutoring business again. Later, Leah tells Zac she wants to sell her share of The Diner. But as she makes the announcement it looks like someone is watching them...
Get the latest updates, reviews and unmissable series to watch and more!
Thank you for signing up to Whattowatch. You will receive a verification email shortly.
There was a problem. Please refresh the page and try again.