Will Olivia cheat on Hunter?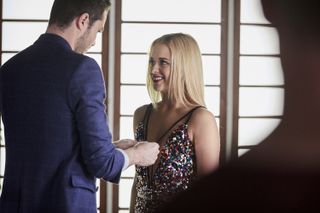 Olivia is playing with fire...
Hunter accompanies Olivia to her publicity shoot, but is soon told to leave by Axel as he feels like he is distracting Olivia. With just Axel and his team at the shoot with Olivia, he persuades Olivia to be sexy. Afterwards, Axel takes Olivia back to his hotel and he kisses her. Will Olivia give into temptation?
Meanwhile, the Stewart household is left stunned when Quinn turns up on their doorstep. She is practically ready to drag Ryder home, but Ryder asks Alf if he can live with him and Roo. Alf says it's not his decision to make but asks Quinn to stay for a few days. Will Quinn say yes?
Also, Brody wants to spend some alone time with Ziggy, so he invites her over for an Italian cooking class. Things don't go plan, however, and the entire family ambushes their alone time. Later, Brody tells Mason he still has feelings for Ziggy, but wants to respect Ben. Mason tells Brody to fight for Ziggy - but will Brody take his advice?
Get the What to Watch Newsletter
The latest updates, reviews and unmissable series to watch and more!
Tobi Oredein is an award-winning women's lifestyle journalist, media entrepreneur and international public speaker based in London, who focuses on race, feminism, beauty politics & popular culture. Tobi has been commissioned by Buzzfeed, British Glamour, Grazia, Elle UK, Fader, The Debrief, The Independent, The Pool, Stylist, Vice and others. She has also interviewed public figures such as Ryan Coogler, Ava Duvernay and Sir Trevor McDonald.