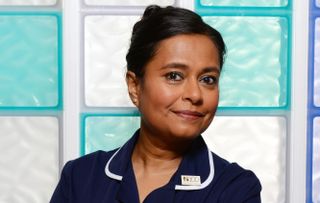 (Image credit: BBC / Kieron McCarron)
Ruhma faces the consequences of her actions at The Mill...
Ruhma has a secret meeting with an anxious Karen and Ayesha. Both ladies fear that helping Ruhma in her quest to keep Besa safe may have put their jobs at risk. Ruhma assures them both that if the police find out the truth, she will take full responsibility. Ruhma decides to confess all to Mrs Tembe, who is disappointed and suspends Ruhma from work.
After making the difficult decision to suspend Ruhma, Mrs Tembe has no choice but to launch an investigation and asks Emma and Al to assess the situation. Will Emma and Al be able to remain impartial when they find out about Ruhma's actions? When Ruhma returns home, Rob pays her visit and makes a decision…
Also, Sid tells Jimmi that he's loving his bachelor pad. He boasts about ordering late-night pizza and living by his own rules. Valerie overhears their conversation and gives them both a lecture on healthy eating. Sid manages to escape - but will Valerie manage to force her newfound health kick on Jimmi?
Get the What to Watch Newsletter
The latest updates, reviews and unmissable series to watch and more!
Tobi Oredein is an award-winning women's lifestyle journalist, media entrepreneur and international public speaker based in London, who focuses on race, feminism, beauty politics & popular culture. Tobi has been commissioned by Buzzfeed, British Glamour, Grazia, Elle UK, Fader, The Debrief, The Independent, The Pool, Stylist, Vice and others. She has also interviewed public figures such as Ryan Coogler, Ava Duvernay and Sir Trevor McDonald.