Zosia fights for the chance to save Annabelle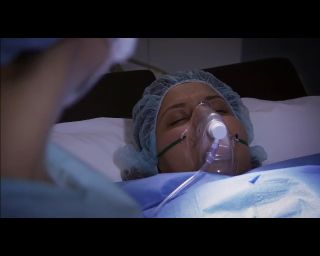 When her mentor Annabelle collapses on the ward, a sure sign her brain tumour is worsening, Zosia's determined to perform the life-prolonging surgery Annabelle needs. Unfortunately, Guy refuses to let Zosia carry out the high-risk, experimental procedure herself amid fears the pressure may trigger Zosia's bi-polar. When Guy says the surgery can go ahead, but only if he operates, it looks like Zosia will have to accept being sidelined.
Annabelle comes to her defence, though, when she reminds Zosia that she chose to mentor her because she thinks she's brilliant, giving Zosia the confidence to fight for the chance she deserves. As Guy allows Zosia to operate, Zosia knows she has to overcome the pressure to save Annabelle's life…
Meanwhile, Raf's intrigued by his patient's mysterious daughter, Lucy, who has a wound on her cheek and keeps trying to hide her face. Raf learns Lucy was disfigured in an accident but she refuses to talk to him about it, though Raf suspects the metal plates Lucy's had put in her jaw are infected and require treatment.
Raf tells Lucy he specialises in Maxillofacial surgery but, when he shows her photos on his phone of the work he did on ex-colleague Harry, she reacts angrily and smashes the phone! Lucy soon thaws towards Raf and lets him assess her injury. Lucy agrees to return for a follow-up appointment but Raf's in no doubt there's more to her accident than meets the eye…
Also, Mo gives her dad, Clifford, a hard time when he makes a silly error on his first day working at the hospital. Why did she overreact?
Get the latest updates, reviews and unmissable series to watch and more!
Thank you for signing up to Whattowatch. You will receive a verification email shortly.
There was a problem. Please refresh the page and try again.