A Million Little Things season 5: 4 big questions we want answered
After five seasons, fans are getting ready to say goodbye to A Million Little Things.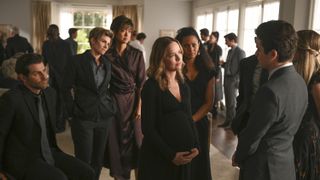 (Image credit: ABC/Sergei Bachlakov)
After premiering in 2018, fans quickly fell in love with A Million Little Things and have shed plenty of tears for its characters over the years. Unfortunately, the series is coming to an end with A Million Little Things season 5, which starts on Wednesday, February 8, at 10 pm ET/PT on ABC.
The emotional drama follows a special family of friends who get a wake-up call to really start living when one of them unexpectedly dies. This season, it's time to bring this beautiful journey involving friendship, love and sorrow to an end. But what are some of the lingering questions that the show has to address after the previous four seasons?
Here are four big questions we want answered before we say goodbye to A Million Little Things.
Will Maggie's pregnancy go smoothly?
Despite all of the obstacles and only having one shot, we learned in the season 4 finale that Maggie (Allison Miller) and Gary (James Roday Rodriguez) are pregnant, but not without a scare first.
At a doctor's appointment, audiences find out that Maggie has just experienced some spotting rather than getting her period. Her blood work also came back positive and confirms they will be parents. The moment is one of the most incredible in the show, giving these two the next chapter they dreamed of together, even if there is a bigger challenge they must face at the same time.
The question is, what else will be thrown at the couple?
Will Gary beat his cancer again?
At the end of season 4, we found out that while the lump in Gary's breast was benign, a scan showed a mass in his lung, meaning his cancer has returned. He has been secretly going to chemotherapy with Maggie but does not want to share the life-changing news with his friends because he knows they will treat him differently. Rome (Romany Malco) and Regina (Christina Moses) find out when their friend gives them back Rome's camera, discovering a video that Gary made for his future child in case he doesn't get better.
In the season 5 premiere, audiences will see the group celebrate the life of another lost loved one, though it is unclear who the funeral is for. Is it Gary? Will the rest of the season be flashbacks to how we get to that point? Or is it another unexpected death unrelated to Gary's cancer? Fingers crossed for the latter because it will be devastating if we can't see him as a father to his child.
Will Katherine and Greta make their relationship work?
After a visit from Theo (Tristan Byon) and Katherine's mom in the finale, Greta (Carmen Esposito) visits Katherine (Grace Park) so they can have a conversation. Both of them open up, expressing what they've been feeling so that they can try again. At the end of the episode, we find out that Katherine is going to ask Greta to move in for real this time. Eddie (David Giuntoli) also joins them for a family dinner, showing how far they've all come.
Obviously, moving in and taking that step as a couple always comes with challenges. Since this is the final season, fans will find out if they are endgame or not meant to be.
Will we see Tyrell in the final season?
By the end of season 4, it is revealed that Tyrell (Adam Swain) wants to stay home for Regina and Rome, who has been struggling with his depression, after everything the couple has done for him when he had nothing. However, Regina encourages him to go to Yale, promising he can come back home at any time.
So with Tyrell off to college, will we see him in the final season to help close Regina and Rome's story?
A Million Little Things airs new episodes on ABC, which is available to anyone with a traditional cable provider, TV antenna to receive local stations, or is signed up for a live TV streaming that includes ABC, such as FuboTV, Hulu with Live TV or YouTube TV. New episodes of the final season are going to be available on-demand on Hulu the day after they premiere live.
Get the What to Watch Newsletter
The latest updates, reviews and unmissable series to watch and more!
Sophia Soto has a passion for all things entertainment. She is a member of The Hollywood Critics Association and currently writes for The Nerds of Color. You can also see her work on What To Watch, Remezcla, Looper, Den of Geek, Young Hollywood and more. Some of her favorite shows include Grey's Anatomy, The Goldbergs, Riverdale and Roswell, New Mexico. She is a complete Marvel nerd as well!