Does Maya Bishop survive on Station 19?
Plus, fans weigh in on the state of her marriage to Carina.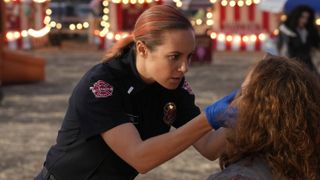 (Image credit: ABC/James Clark)
When the Station 19 season 6 fall finale aired back in November 2022, it left viewers gasping as the episode ended with Maya Bishop (Danielle Savre) injured and passed out on the floor alone. In many ways, that scene seemed to be a culmination of her recent downward spiral that alienated those closest to her. Now the big question is what happens to Maya next?
Before we dive into the answer, let's revisit what led up to this moment.
In the episode titled "Everybody Says Don't," Maya got into an argument with her wife Carina (Stefania Spampinato). The former wasn't thrilled that the latter took a pregnancy test without her and let her feelings be known. On the other hand, Carina was annoyed by Maya's reasons for being upset, thinking her wife should be more supportive of the fact that Carina was disappointed she wasn't with child. Take a look at the heated exchange.
This conversation. This moment. Carina is constantly going to think about, while waiting to hear about Maya. She's going to keep blaming herself. Comparing the situation to Andrea. Think what she could've done differently. What she could've said definitely. 💔 #station19 pic.twitter.com/ToZGmBhcNCFebruary 18, 2023
Maya then got into it with her bestie Andy (Jaina Lee Ortiz). Maya took exception with the fact that her friend, who outranks her on the force, told her to step aside while in the middle of saving a life in the field. While Andy's call wasn't personal, Maya felt attacked. When she confronted Andy about the incident at the station, it ended with Maya storming off.
In what has appeared to be an ongoing theme this season, an upset Maya went to the gym in the station to work out her frustrations. Unfortunately, while pushing her body to its limits on the treadmill, she takes a pretty hard fall that renders her unconscious and alone, as her friends and coworkers left to handle another crisis (Meredith Grey's burning house).
What happens to Maya in Station 19?
Fast forwarding to the winter season 6 premiere titled "We Build Then We Break," Jack (Grey Damon) actually finds Maya and gets her to the hospital. While at Grey Sloan Memorial, Dr. Altman (Kim Raver) manages to treat Maya but informs her that her body is exhausted. In fact, she's pushed her body, specifically her heart, so hard that she's actually on the verge of having a heart attack.
It looks like the best medicine for her is actually rest, which Maya clearly doesn't know how to do. It's even recommended she seek some form of therapy to help her work through the issues plaguing her mental health, which Carina is glad to second as she's been telling her wife to go to therapy for months.
Maya is adamant however that she is perfectly fine and even tries to go against Altman's orders and check herself out of the hospital. That's when Carina makes the hard decision to have her wife placed in a forced psychiatric hold for 72 hours. Maya becomes livid and vows if Carina goes through with this that they are done. An emotionally-wrecked Carina stands her ground, committed to seeing the love of her life alive and well, even if that costs her the marriage.
You know the worst thing? The second Maya realised Carina had actually walked out the room, terror took over, that's why she started screaming her name #Station19 She was terrified pic.twitter.com/iTutQLUYBUFebruary 24, 2023
In the final moments of the episode, Carina goes home and packs her bags. She appears to be prepared for whatever fallout may come next, even if it is a divorce.
Station 19 fans weigh in on Maya and Carina's relationship
Fans are not thrilled to see the fan-favorite couple teetering on the edge of divorce. Check out the Tweets for yourself.
carina shouldn't have been the one to tell maya that she was being sectioned, that shouldn't have been her job. what happened to not working on family members. carinas job was to be there to support not to tell her wife that she can't leave the hospital #Station19February 24, 2023
the way she had to cover her ears cause she couldn't bear hearing maya's screams 😭😭 #Station19 pic.twitter.com/4B3XVosJmIFebruary 24, 2023
the maya bishop i know would never ever speak to her wife like this and i need someone to help her #Station19 pic.twitter.com/s1jmM3ZbQJFebruary 24, 2023
okay this maya and carina storyline is killing me, but this acting from danielle savre and stefania spampinato, oh boy. they are just consistently two of the best actors in this grey's anatomy universe #station19 pic.twitter.com/9o456QqIIuFebruary 24, 2023
carina putting her fingers in her ears cuz she couldn't bare to listen to maya's screams wasn't in the script, @spampistefania once again killing us with this improv #Station19 pic.twitter.com/PMu895GMGGFebruary 24, 2023
Station 19 airs live on ABC on Thursdays at 8 pm ET/PT. Episodes become available to stream the next day on Hulu.
Get the What to Watch Newsletter
The latest updates, reviews and unmissable series to watch and more!
Terrell Smith has a diverse writing background having penned material for a wide array of clients including the federal government and Bravo television personalities. When he's not writing as Terrell, he's writing under his pseudonym Tavion Scott, creating scripts for his audio drama podcasts. Terrell is a huge fan of great storytelling when it comes to television and film. Some of his favorite shows include The Crown, WandaVision, Abbot Elementary and Godfather of Harlem. And a fun fact is he's completely dialed into the TLC 90 Day Fiancé universe.