Emmerdale spoilers for 2023: secrets, lies and wedding bells are on the cards
Emmerdale's full of drama as 2023 begins.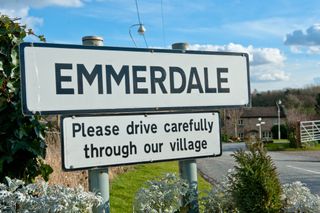 (Image credit: ITV)
Emmerdale hasn't exactly been a quiet, calm place to live recently, what with the storm, the tragic deaths of Faith, Harriet and Liv, secret pregnancies, affairs, assaults and even murder!
And it looks like 2023 is going to be more of the same with a new Dingle in town, some new ventures, and some new arrivals!
Read on for our round-up of what to expect in the new year in Emmerdale.
Emmerdale in 2023: What happens this new year?
Could Caleb hold the key to Cain's freedom?
There's a new Dingle in town this Christmas — Cain and Chas's long-lost brother, Caleb.
He showed up at the prison to see his brother and was soon causing chaos all over the village, thanks to his determination to get to know his family.
And that might not be all he's up to.
Of course we all know Cain's currently in jail, after pleading guilty to murdering Al Chapman — even though he didn't do it. Cain's covering for his son, Kyle Winchester, and he's determined to stay behind bars for the rest of his life, if it protects his little lad.
And Emmerdale boss Jane Hudson has teased that Caleb could be making his presence felt in other ways, too.
She says that he could get involved in Cain's prison stint.
"Could he be the answer to all the Dingles' prayers in regards to Cain being locked up?" she said. "You'll have to wait to find out that one."
Sounds intriguing!
Chas and Paddy's heartbreaking split
Chas and Paddy Dingle were one of Emmerdale's most popular couples and it's only a couple of years since fans were excitedly watching their Christmas wedding.
But that all seems a long time ago now.
Since then, Chas has had a steamy affair with Al Chapman, and broken Paddy's heart. And now Paddy knows the truth he's determined to make Chas pay for her betrayal.
Will their story have a happy ending? From where we're standing it seems unlikely!
So what's next for the pair? Could Aaron return to comfort Paddy?
Or is there a new romance on the horizon for the former Mr Dingle?
Baby drama for Charity and Mackenzie
As soap fans, there's not much we like more than impending doom! And we've got that in spades with Charity and Mackenzie.
First up we've got their wedding preparations — they're getting ready to tie the knot this summer.
And then, of course, there's Chloe's baby.
Chloe and Mackenzie's baby.
Right now, the fact that Chloe's pregnant with a mini Mack is top secret, but this is soap and we all know nothing ever stays secret for long.
Are we thinking a wedding-day reveal? Hmmm. Sounds good to us!
Cathy's new struggles
According to Emmerdale boss Jane Hudson, Cathy Hope is ready to take centre stage in a big storyline in the new year.
Jane said: "It's her first big story and it's a challenging one."
Sounds interesting!
According to Jane, it's a story that Emmerdale fans who are parents will relate to and she also teased that it's something that hasn't been done by a soap before.
Curious and curiouser!
We'll be keeping an eye on Cathy as the new year dawns.
New owners at the B&B?
Once upon a time the B&B was at the heart of all sorts of drama in Emmerdale, though it's not been as busy since HOP and the Hide opened.
That's all about to change, though, because the B&B's had a makeover — and it's going to get two new owners, too.
According to rumours, the B&B — which is currently owned by Eric Pollard — is going to be glamorous and classy, and the new owners are two people, but they're not a couple.
Who could they be? We can't wait to find out!
Emmerdale usually airs Monday to Friday at 7.30pm on ITV. Check our TV guide for more details.
Get the latest updates, reviews and unmissable series to watch and more!
Kerry is a writer, author and editor with a lifelong love of the soaps, a passion for TV drama of all kinds, and an obsessive devotion to Strictly Come Dancing.
She was features editor of All About Soap magazine for more than a decade, covering every bit of excitement from all the UK soaps and the Aussies and still writes about all the juiciest gossip from the Street, the Square and the Dales whenever she can.
Kerry's also an author of historical fiction, and her two jobs collided when she got the chance to write two novels based on Emmerdale, and the Sugden, Tate and Dingle families, during WW2.
Thank you for signing up to Whattowatch. You will receive a verification email shortly.
There was a problem. Please refresh the page and try again.