Funny Woman star Gemma Arterton on transforming her look to play beauty queen Barbara Parker
Gemma Arterton on Funny Woman, her new show about a beauty queen who wants to become the queen of comedy in the 1960s.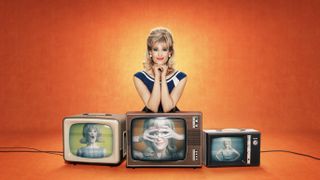 (Image credit: SKY TV Ltd )
Funny Woman sees Gemma Arterton take centre stage as a 1960s beauty queen who battles to make her name as a sitcom star.
Six-part comedy-drama Funny Woman, airing in the UK from Thursday, February 9 on Sky Max and Now TV, is based on Nick Hornby's novel Funny Girl (opens in new tab). It sees Bond and Black Narcissus star Arterton play glamorous, quick-witted Barbara Parker, who is crowned Miss Blackpool Belle 1964. But Barbara has much bigger dreams, so she leaves town to find fame in London.
Although her showbiz aspirations are initially thwarted, she gets an agent and a new stage name, Sophie Straw, and she eventually auditions for a groundbreaking sitcom about a mismatched young couple. But she soon comes across both professional and romantic hurdles.
What To Watch caught up with Gemma Arterton to find out more about Funny Woman…
Funny Woman was something that appealed to you straight away, wasn't it?
"The script was fantastic, it jumped off the page, and I loved the character. There's something about her that I connected with, her sense of humour and what she comes up against. She's a doofus, but she speaks up for herself, she knows innately what's right. She has flaws and she's ambitious, but she's a good egg. I love her!"
What journey does Barbara go on?
"There's something in her that knows that she's capable of more, and that's what propels her. She goes into things naively and has no idea about London and comedy, although she knows how to be funny. But what makes her a good performer is that she's willing to take risks."
Did you get a sense of how tough it was for women to break into comedy then?
"Absolutely, it was hard to be taken seriously, women weren't front and center. They had Lucille Ball in America, but we didn't have those queens of comedy in the UK for a long time. We were doing Carry On-type things with Barbara Windsor, but it wasn't until the likes of The Liver Birds or Victoria Wood that women were having their own shows and getting punchlines and having their own voice."
How does Barbara get on with Clive (Tom Bateman), her sitcom co-star, and Dennis (Arsher Ali), her producer?
"The love triangle! At first she thinks Clive's a wally because he's not nice to her, he's stuck up, but he brings out something in her, they have good chemistry. And with Dennis, they just have a connection and he believes in her and sees this special thing in her. Tom and Arsher are perfect. I had the best time working with them."
What was it like reuniting with Rupert Everett, who plays Barbara's flamboyant agent Brian Debenham, after you appeared together in the St Trinian's films?
"It was surreal and special to work with Rupert again after all these years. He turned up on this with a wig, teeth and fat suit and was completely this creation. In all the other scenes, I was the driver of the comedy, whereas I could sit back and let Rupert take the pressure off me a bit!"
Did you enjoy the Swinging Sixties costumes?
"I loved them! It's my favourite time for fashion, and culturally it was a huge time of change. But it was a transformation for me. The blonde wig's a big part of Barbara's identity. Once we got that, I was like, 'There she is.' We also used a lot of vintage clothes from the time. They got genuine pieces from Mary Quant and I tried to be really careful wearing them!"
Funny Woman starts on Thursday, February 9 at 9pm on Sky Max and Now TV.
Get the What to Watch Newsletter
The latest updates, reviews and unmissable series to watch and more!
Caren has been a journalist specializing in TV for almost two decades and is a Senior Features Writer for TV Times, TV & Satellite Week and What's On TV magazines and she also writes for What to Watch.
Over the years, she has spent many a day in a muddy field or an on-set catering bus chatting to numerous stars on location including the likes of Olivia Colman, David Tennant, Suranne Jones, Jamie Dornan, Dame Judi Dench and Sir Derek Jacobi as well as Hollywood actors such as Glenn Close and Kiefer Sutherland.
Caren will happily sit down and watch any kind of telly (well, maybe not sci-fi!), but she particularly loves period dramas like Call the Midwife, Downton Abbey and The Crown and she's also a big fan of juicy crime thrillers from Line of Duty to Poirot.
In her spare time, Caren enjoys going to the cinema and theatre or curling up with a good book.