Meet the Narvik cast: Who's who in the Netflix war drama
Meet the stars that lead the Narvik cast.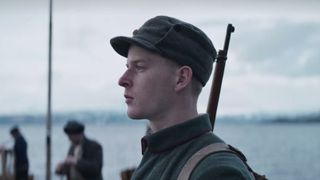 (Image credit: Netflix)
Who's in the Narvik cast? Here's our breakdown of the stars that appear in the war film that's now available on Netflix.
Narvik: Hitler's First Defeat is a historical Norweigan war drama directed by Erik Skjoldbjærg (Insomnia, Prozac Nation). In it, all eyes are turned on the titular small town in Norway which was the source of iron ore for Hitler's war machinery.
Set against the backdrop of the invasion of neutral Norway, the German occupation of Narvik and a World War Two battle that is regarded as "Hitler's First Defeat" (hence the subtitle), Narvik tells the story of a Norweigan soldier who returns home. There, he uncovers a shocking truth about his wife.
Fellow foreign-language war drama All Quiet On The Western Front has performed incredibly well on the awards front — it was recently nominated for 14 Baftas and has been recognized with multiple 2023 Oscar nominations — so we've put together this guide to the Narvik cast if you're looking to stay immersed in historical dramas.
Who's in the Narvik cast? Kristine Hartgen as Ingrid Tofte
Kristine Hartgen plays Ingrid Tofte, a woman who works at a hotel in the town of Narvik. She finds herself forced to work with the occupying forces as a translator, as she speaks German, English and Norweigan.
What else has Kristine Hartgen been in? Kristine has also starred in Beforeigners, Catch and Release, and The 12th Man.
Carl Martin Eggesbø as Gunnar Tofte
Carl Martin Eggesbø plays Gunnar. He's Ingrid's husband and a member of the Norweigan neutrality guard who is captured by the German forces and becomes a prisoner of war.
What else has Carl Martin Eggesbø been in? Carl Martin Eggesbø has also featured in Skam, Orps Betrayed, and Mio min Mio, among other roles.
Stig Henrik Hoff as Aslak Tofte
Stig Henrik Hoff plays Gunnar's father, Aslak, who helps care for Gunnar's son whilst he's away.
What else has Stig Henrik Hoff been in? Stig has featured in Beforeigners, Elven, Lilyhammer, Cross of Honour and Burnt by Frost. He's arguably best known for his part in the 2011 version of John Carpenter's The Thing.
Christophe Gelfert Mathiesen as Ole Tofte
Christoph Gelfert Mathiesen plays Gunnar and Ingrid's son, Ole Tofte.
Narvik is Christoph's first major credit.
Henrik Mestad as Major Sigurd Omdal
Henrik Mestad plays Major Sigurd Omdal, leader of the forces resisting occupation.
What else has Henrik Mestad been in? Aside from Narvik, Henrik has also appeared in Hvite gutter, Norsemen, Okkupert, Conspiracy of Silence, Lilyhammer, Sons, and Vestavind, among others.
Christoph Bach as Konsul Fritz Wussow
Christoph Bach plays Konsul Fritz, a German who keeps Ingrid at the hotel to translate for him.
What else has Christoph Bach been in? Christoph has also appeared in Carlos the Jackal, World on Fire, The Saboteurs, Polder, Detroit, Risending, Wilsberg and Allmen, among many other projects.
Who else is in the Narvik cast?
Below you'll find the names of the other members of the main Narvik cast:
Mathile Holtedahl Cuhra as Bjørg
Holger Handtke as Generalleutnant Eduard Dietl
Magnus Dugdale as Giles Romilly
Emil Johnsen as Ordfører Theodor Broch
Isak Bakli Aglen as Korporal Larsen
Kari Bremnes as Polly
Ollie Campbell as Konsul George L.D. Gibbs
Benjamin Noble as Sub-lieutenant Patrick Dalzel-Job
Narvik is now streaming on Netflix.
Get the latest updates, reviews and unmissable series to watch and more!
Staff Writer at WhatToWatch.com
Martin is a Staff Writer with WhatToWatch.com, where he produces a variety of articles focused on the latest and greatest films and TV shows.
Some of his favorite shows are What We Do In The Shadows, Bridgerton, Gangs of London, The Witcher, Doctor Who, and Ghosts. When he's not watching TV or at the movies, Martin's probably still in front of a screen playing the latest video games, reading, or watching the NFL.
Thank you for signing up to Whattowatch. You will receive a verification email shortly.
There was a problem. Please refresh the page and try again.