Meet the Not Dead Yet cast: who's who in the sitcom
Get to know the characters and cast of ABC's Not Dead Yet.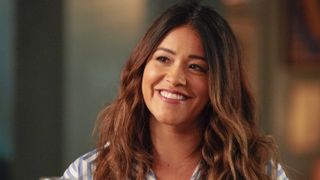 (Image credit: ABC/Lara Solanki)
If you're in the market for a comedy about a reporter seeing dead people, then Not Dead Yet is the show for you. In Gina Rodriguez's return to live-action television, the series follows her character Nell, who for all intents and purposes is trying to get her life back on track. She finds this task to be more complicated than anticipated however since discovering she's able to speak with the deceased people she writes about in the obituary section of the local newspaper.
The new series premieres on ABC Wednesday, February 8, joining The Conners, The Goldbergs and Home Economics as Wednesday night comedy fare for viewers.
Who else joins Rodriguez in this new primetime sitcom? Here's your chance to meet the Not Dead Yet cast.
Gina Rodriguez as Nell
Nell is a journalist trying to revitalize her career having stepped away from writing five years ago to pursue love in London. Now back in the US, she was given the opportunity to be a published journalist again at a local newspaper. Unfortunately for Nell, she's not writing the most glamorous of pieces given she was assigned to the obituary section. However, in a weird turn of events, she winds up being able to see every person on whom she writes an obituary.
Playing Nell is Golden Globe-winning actress Gina Rodriguez. Rodriguez shot to superstardom playing Jane in the hit drama Jane the Virgin. She's also been spotted in the movies Annihilation, Someone Great and I Want You Back and has lent her voiceover talent to Big Mouth and the animated version of Carmen Sandiego.
Hannah Simone as Sam
Sam is Nell's best friend who also works at the newspaper as an editor of the lifestyle section. Unlike her bestie, Sam usually portrays to the world that she has it all together. However, while she is great at her job and is a fantastic mother at home, she often envies others' freedom and ability to take risks.
Portraying Sam is actress Hannah Simone. Simone is best known for starring as Cece in New Girl. She's also been spotted in the series Single Parents.
Lauren Ash as Lexi
Lexi is the recently appointed newspaper editor-in-chief, a job she easily acquired given her dad owns the paper. She's privileged, comedically out of touch with "everyday people" and exudes confidence in most areas of her life — except in her actual job. She's way over her head when it comes to running a paper, yet must prove herself in the position if she hopes to earn the approval of her father.
Lauren Ash stars as Lexi. Ash is most recognized for her role as Dina in Superstore. She also voices Diane in Chicago Party Aunt.
Rick Glassman as Edward
Edward is Nell's slightly snarky and passive-aggressive roommate she found on Craigslist. He seems to never skip out on a chance to take a dig at Nell, especially when she annoys him. Which honestly, is not hard for her to do.
Starring as Edward is Rick Glassman. Glassman has been spotted as Jack in As We See It and Burski in Undateable.
Josh Banday as Dennis
Dennis is Nell's former roommate and longtime friend who got her a job at the paper. He considers the position to be the least he could do for Nell introducing him to his husband.
Josh Banday portrays Dennis. Banday was recently seen as Alan in Pam & Tommy and Ivan in Upload.
Angela Gibbs as Cricket
Cricket is always a source of wisdom for Nell to turn to in times when she needs it. Cricket is rather free-spirited and does her best to uplift Nell, who on many occasions, definitely needs the extra boost of positivity.
Playing Cricket is Angela Gibbs. Gibbs has starred as Marcus' mom in Hacks and Rose in On My Block.
New episodes of Not Dead Yet air on Wednesdays at on ABC. Episodes become available to stream the next day on Hulu.
Get the What to Watch Newsletter
The latest updates, reviews and unmissable series to watch and more!
Terrell Smith has a diverse writing background having penned material for a wide array of clients including the federal government and Bravo television personalities. When he's not writing as Terrell, he's writing under his pseudonym Tavion Scott, creating scripts for his audio drama podcasts. Terrell is a huge fan of great storytelling when it comes to television and film. Some of his favorite shows include The Crown, WandaVision, Abbot Elementary and Godfather of Harlem. And a fun fact is he's completely dialed into the TLC 90 Day Fiancé universe.