Meet the Will Trent cast: who's who in the police drama
Get to know the characters and cast of Will Trent, ABC's new show.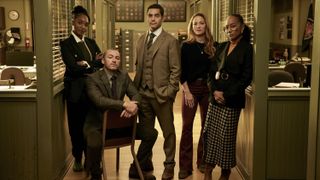 (Image credit: ABC/Art Streiber)
If you haven't heard, ABC has a new "procedural" night on its hands. The broadcasting network's Tuesday's primetime lineup has been taken over by The Rookie, The Rookie: Feds and the newest show in town, Will Trent.
Based on Karin Slaughter's New York Times bestselling book series, the TV adaptation of Will Trent follows brilliant Special Agent Trent (Ramón Rodríguez) as he uses his unique brand of detective work to solve cases and apprehend suspects. Critics have fallen in love with Will Trent, giving the show a Rotten Tomatoes (opens in new tab) score of 100% (as of January 9).
So who is in the new critically-acclaimed drama? Let's meet the cast of Will Trent.
Ramón Rodríguez as Will Trent
Will Trent is a quirky special agent for the Georgia Bureau of Investigations (GBI). His unique approach to crime investigation makes him one of the best detectives in the department. However, given he prefers to do things his way at all times, his approach doesn't exactly make him the most popular agent among his peers. In fact, Will isn't a very social person at all. With that said, his primary concern is not to be liked, but to make sure no victim or their loved ones feel abandoned as he did growing up as a child in the Atlanta foster care system.
Playing Will Trent is actor Ramón Rodríguez. Rodríguez was previously been spotted as Leo in Transformers: Revenge of the Fallen, John in Lullaby and Ben in The Affair.
Erika Christensen as Angie
Serving as Will's best friend is Angie. Angie was able to crack Will's hard exterior at an early age as the two have been friends since they were kids. However, over the years, their friendship has evolved into romance on occasion. While she is also a good detective, what serves as a potential hindrance in her career is her teetering sobriety.
Starring as Angie is Erika Christensen. Christensen was featured as Kate in Cheaper by the Dozen, as Gertie in Clover and as Julia in Parenthood.
Iantha Richardson as Faith
Faith is Will's reluctant partner. While she can't deny his intelligence, she's not always appreciative of his tactics when solving cases. In terms of her no-nonsense approach to police work, she heavily relies on her knowledge and experience of Atlanta.
Iantha Richardson plays Faith. Richardson's most notable role has been as the adult version of Tess in the hit series This Is Us. She's also starred as Tessa in American Soul and Tolu in Good Trouble.
Jake McLaughlin as Michael
Every police procedural needs a straight-laced, by-the-books law enforcement agent, and Michael is that person. He was formerly in the military and it appears his desire to protect and serve stems more so from a sense of civic duty. All in all, he is Will's polar opposite.
Jake McLaughlin stars as Michael. McLaughlin formerly played Ryan in Quantico, William in Believe and Marvin in Home.
Sonja Sohn as Amanda
Amanda is the head of the Georgia Bureau of Investigation and Will's boss. While she is a strict and fearless leader knowing all eyes are on her, she oddly enough gives Will the occasional space to conduct his unorthodox detective work.
Playing Amanda is actress Sonja Sohn. Sohn has made a name for herself in the crime drama genre, starring as Shakima in The Wire, Katherine in Utopia and has been spotted as Laverne in The Chi.
Will Trent continues to air on Tuesdays on ABC, with new episodes becoming available to stream on Hulu the next day.
Get the latest updates, reviews and unmissable series to watch and more!
Terrell Smith has a diverse writing background having penned material for a wide array of clients including the federal government and Bravo television personalities. When he's not writing as Terrell, he's writing under his pseudonym Tavion Scott, creating scripts for his audio drama podcasts. Terrell is a huge fan of great storytelling when it comes to television and film. Some of his favorite shows include The Crown, WandaVision, Abbot Elementary and Godfather of Harlem. And a fun fact is he's completely dialed into the TLC 90 Day Fiancé universe.
Thank you for signing up to Whattowatch. You will receive a verification email shortly.
There was a problem. Please refresh the page and try again.