Nolly's Helena Bonham Carter reveals why Noele Gordon was an extraordinary woman
Helena Bonham Carter and Russell T Davies on teaming up to explore the sacking of Crossroads legend Noele Gordon in new drama Nolly.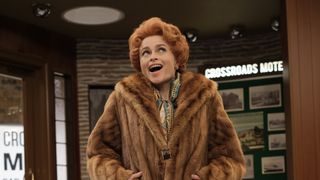 (Image credit: ITVX)
Nolly, starring Helena Bonham Carter, takes an in-depth look at the sacking of soap icon Noele Gordon.
Known as Nolly to her friends, Noele Gordon spent nearly 20 years as stalwart motel owner Meg Mortimer in the classic British soap Crossroads, until, in 1981, she was suddenly fired without warning.
Now, the extraordinary story is told in the three-part drama Nolly, penned by It's A Sin and Doctor Who writer Russell T Davies, which will air on ITVX from Thursday, February 2 in the UK and on PBS Masterpiece in the US at a later date.
What To Watch caught up with The Crown star Helena Bonham Carter and Russell T Davies to get the lowdown on Nolly…
Nolly is an amazing story. Did you know much about Noele Gordon beforehand?
Helena Bonham Carter: "I didn't until I read Russell's script and she came into my life like a force. She's a sensational woman — quite apart from Crossroads, which I was aware of, but I wasn't a follower — and she fizzed off the page. She had such gumption and fierceness. I thought, 'We all need a Nolly in us!'"
Russell T Davies: "I don't think anyone can say it was high art but I loved Crossroads, I was obsessed. The cast were told they were rubbish a lot of the time but it was enormously popular. Then Noele was sacked overnight. It's about a woman in crisis. What did that do to her?"
Nolly had quite a formidable reputation didn't she?
Russell: "I'd heard stories about what a diva she was, and I thought, 'That'd be fun to write,' but I started talking to the cast, and they loved her. Yes, she could be tough and fierce, but she got the show on air. She loved Crossroads and she would defend it."
Helena: "Nolly knew Crossroads back to front, it was her life. She was hard-working and professional and expected everyone else to be. She played the same character, day in, day out, and I admired her dedication. She was a leader too, she looked after everyone who worked on Crossroads."
Did you get a sense of how Nolly's sacking impacted on her?
Helena: "It was a big shock for her. She was appallingly badly treated. But she said what she felt, she wasn't going to be bullied. There are moments of bitterness though because of the public humiliation and the fact she didn't even know why. And, I don't want to give too much away, but I suspect that she was sacked because people were threatened and resented her power."
Russell: "I was able to talk to people at the top, and realize what happened. In 1981, the whole of television was about to change and the bosses were suddenly businessmen, which you'd never had before."
How much did the support of her friends, including comedian Larry Grayson and her Crossroads co-star Tony Adams, who played suave deputy manager Adam Chance in the soap, help her?
Helena: "Those genuine friendships were the only things that she could fall back on because she didn't have a family. She'd teach the young actors everything and they were her surrogate children. And she and Tony [Augustus Prew] particularly knew how to have fun. It's not often you see that relationship between an older woman and a younger man. That friendship was so important to them."
Russell: "And Nolly and Larry [Mark Gatiss] were genuinely best friends. The public used to think they would get married! And 1981, when she was sacked, is around the time that Larry resigned from The Generation Game. It really was the end of an age."
Nolly, who passed away in 1985, has sadly become a bit of a forgotten icon over the years, do you hope this will bring back memories of her?
Helena: "When I first spoke to Russell, I loved how he said, 'We need to give her a proper send-off.' Championing Nolly means that I'm championing every woman of a certain age who might be cut off because we're deemed too old. She was an extraordinary woman. It is a tribute to someone who still has a lot to teach us."
Get the What to Watch Newsletter
The latest updates, reviews and unmissable series to watch and more!
Caren has been a journalist specializing in TV for almost two decades and is a Senior Features Writer for TV Times, TV & Satellite Week and What's On TV magazines and she also writes for What to Watch.
Over the years, she has spent many a day in a muddy field or an on-set catering bus chatting to numerous stars on location including the likes of Olivia Colman, David Tennant, Suranne Jones, Jamie Dornan, Dame Judi Dench and Sir Derek Jacobi as well as Hollywood actors such as Glenn Close and Kiefer Sutherland.
Caren will happily sit down and watch any kind of telly (well, maybe not sci-fi!), but she particularly loves period dramas like Call the Midwife, Downton Abbey and The Crown and she's also a big fan of juicy crime thrillers from Line of Duty to Poirot.
In her spare time, Caren enjoys going to the cinema and theatre or curling up with a good book.