The Good Doctor season 6 episode 10 recap: Shaun and Lea have a pregnancy scare
Plus, Daniel and Dr. Reznick try to set appropriate boundaries.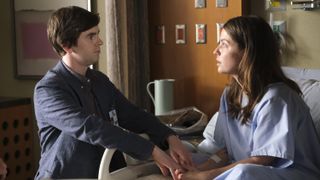 (Image credit: ABC/Jeff Weddell)
NOTE: this post contains spoilers for The Good Doctor season 6 episode 10, "Quiet and Loud"
The Good Doctor season 6 returns with an episode that focuses on the power of community and support it brings.
Dr. Lim (Christina Chang) has completed her surgery and is walking again, while her boyfriend waits for a response to his pre-op bedside proposal. She says she's focusing on her recovery, but Dr. Andrews (Hill Harper) reminds her that her boyfriend deserves a response.
Daniel (Brandon Larracuente) survived his overdose and is back at work with restrictions. Jordan (Bria Henderson) is his immediate supervisor, which makes their relationship awkward. He tries to reassure her she wasn't the cause of his relapse, explaining why he chose to take drugs instead of preparing for their dinner. He admits while she wasn't the cause, he thinks in an effort to convince himself he was healthy enough for a relationship, he inadvertently placed too much pressure on his sobriety. He asks for a new supervisor because he believes working in close proximity to Jordan risks a reoccurrence of the same situation.
Shaun (Freddie Highmore) and Lea (Paige Spara) are monitoring their high risk pregnancy. A routine check up reveals an issue with her uterine wall, putting the pregnancy at risk. Shaun suggests a fairly new procedure and requests that Dr. Glassman (Richard Schiff) and Dr. Lim perform the procedure. After Lea agrees, the surgery is successful and she stays in the hospital for postoperative care.
Shaun is very protective of Lea, screening and limiting her visitors, as he is worried about her medical risks. This makes Lea despondent. Asher (Noah Galvin) explains to Shaun that Lea needs her community of friends. Shaun relents and Jordan spends time with Lea. Lea confides in Jordan she doesn't want to know the baby's sex because she's afraid to hope and plan. As part of her support, Jordan offers her faith in a successful outcome.
Lea develops complications and needs another surgery. The surgeons are almost forced to perform a hysterectomy to save her life. Shaun waits outside sitting on the floor. In a real show of community, all the surgeons, residents and nurses join him on the floor, being present and emotionally supportive. Lea and the baby both survive the surgery, and the entire medical staff is present to celebrate together.
Dr. Reznick (Fiona Gubelmann) is ready for the embryo implantation phase of IVF. Dr. Park (Will Yun Lee) wants to be supportive, but Reznick says she is doing this alone and they need boundaries.
She and Dr. Park work a case of a teen boy dealing with a lifelong illness. The patient is enduring surgery to extend his life because he wants to keep his mother from being alone as long as possible. Reznick says the decision to stop fighting is his only, but he insists he wants to be there for his mother. His response helps Dr. Reznick to understand and appreciate the power of community and being there for loved ones. Prior to the surgery, the patient's mom assures him she loves him and that she'll be fine regardless of the outcome. Dr. Parker also tells Dr Reznick that while insisting on going through the IVF process by herself isn't sad, accepting help and support doesn't make her situation sad either.
After experiencing the support of the entire hospital after Lea's successful surgery, Dr. Lim makes a decision about her romantic future. Her relationship and the connection is very important to her but she needs to move at her own pace. She asks her boyfriend to move in and he accepts.
Dr. Glassman drives Reznick to her implantation appointment. While maintaining boundaries with Dr. Parker, she accepts help from Dr Glassman so that she still has support and community.
Sean and Lea decide on paint colors for the bedroom walls of their baby boy, hopeful for the future.
The Good Doctor season 6 airs new episodes on Mondays on ABC. They are available to stream the next day on Hulu in the US; streaming on Disney Plus in the UK.
The Good Doctor episode recaps
Get the latest updates, reviews and unmissable series to watch and more!
Taayoo Murray is a New York City transplant who is a full-time boy mom, freelance writer, and teen goal-setting coach. She's also a published author of the interactive workbook, "Making Me Happen (opens in new tab)." She has been published in Health, Business Insider, HuffPost Wellness, Livestrong, Yahoo Life and others. When not working, Taayoo enjoys hanging with her three best friends and drinking white wine.
Thank you for signing up to Whattowatch. You will receive a verification email shortly.
There was a problem. Please refresh the page and try again.