The L Word: Generation Q season 3 episode 8 recap — the good and the bad of family
It's an L Word: Gen Q Thanksgiving.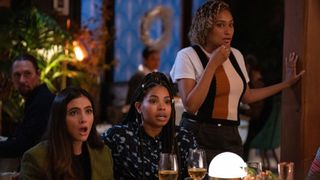 (Image credit: Scott Everett White/SHOWTIME)
NOTE: this post contains spoilers for The L Word: Generation Q season 3 episode 8, "Qualitfy Family Time."
The L Word: Generation Q delivers an emotional Thanksgiving episode this week, a nice reminder that chosen family is just as valid as blood family, and that it's ok to set boundaries.
Things open with Finley (Jacqueline Toboni) talking to Carrie (Rosie O'Donnell) about Misty (Heidi Sulzman) at Dana's, as Finley gets the Thanksgiving celebration prepared.
Tess (Jamie Clayton) is back at work, hoping to lose herself in busywork to distract from feeling the grief associated with her mom's death. But she's struggling, and she's drinking again. At the end of the episode, we see her scatter her mom's ashes and say a final, poignant goodbye.
Shane and Angie try to do some good
Shane (Kate Moennig) and Angie (Jordan Hull) are volunteering at a holiday food giveaway on campus. Angie is clearly not dealing well with her breakup with Hendrix (Simon Longnight), but she goes from mopey to mad when she sees him at the charity event with another woman he is clearly dating. As Shane sneaks her out of the event, they see his car in the parking garage.
Angie, doing what a younger Shane would have done, smashes the back window of the car to retrieve the book of poems she made for Hendrix that's laying on the back seat. As they run away, Hendrix and his date return and see the smashed window. When he sees the book is missing he knows who did it, opting not to call the police.
Dani and Dre have an unexpected holiday together
Dre (Carme LoBue) is getting ready to go home for the holiday, but she and Dani (Arienne Mandi) are definitely getting close. They have some deep conversations as well as some intimate moments. Even though both of them say they don't want anything serious, the potential is definitely there.
When Dre's flight is cancelled, Dani asks her to stay and spend Thanksgiving together. Though originally planned to just be the two of them, Dani gets called to be part of the emotional support contingent heading to Dana's for Finley, whose terrible mother (Mary McCormack) shows up for Thanksgiving.
Not everybody has a family like the Suarezes
Sophie (Rosany Zayas) and Maribel (Jillian Mercado) are having their mother and aunt at the apartment with Micah (Leo Sheng) for Thanksgiving. Finley, trying not to crack under the emotional weight of dealing with her toxic mother, begs Sophie to come to Dana's for support. So the entire Suarez clan packs up some food and goes because that's how chosen family works. Even if you're in a weird place with each other emotionally, when one person is struggling the others show up for them. The support that Sophie's mom and aunt give is nice to see and a total contrast to Finley's mother's behavior.
Micah and Maribel move forward
Despite the drama, Micah is having a fine holiday because he eats way too many weed gummies and is completely stoned throughout the entire thing. As the family is packing up food to bring to Dana's, Maribel drops the ring she had to propose to Micah in the food. Throughout the meal, Maribel and Sophie's mom are trying to keep people from accidentally eating the ring. Eventually they find the ring and Maribel proposes, which Micah accepts. Plus, Maribel and Micah find out there is a donor match for them, so they can move ahead with plans for a baby.
Finley's mother is the worst
After seeing how Finley's mom (Mary McCormack) treats her, it's a little easier to understand some of her behaviors and her struggles with alcohol. Her mother has come to tell Finley she's leaving Finley's dad. But it's impossible to have any sympathy for her. She's rude, domineering and emotionally kicks the stuffing out of Finley at every opportunity.
When Finley tries to make amends to her mother as part of her sobriety journey, her mom cuts her off. She says that Finley has always embarrassed her, so apologizing for a specific incident is pointless. Everyone at the table is shocked by her casual cruelty, but she is unapologetic.
Carrie's moment to shine
Carrie is the real hero of the episode. Carrie and Misty return to Dana's for dinner after a Turkey Trot. When Finley and her mom start to get into it, Carrie stands up for Finley and calls Finley's mother out for her behavior. Just when the tension is starting to reach an uncomfortable level, Tess appears and drops the turkey directly into Finley's mother's lap.
Everyone erupts into laughter and Finley's mother, after taking her last shot, leaves. Everyone hugs Finley and Carrie asks if it's ok for her to take the seat, and symbolically her mother's place in Finley's life. Which is just fine with Finley.
But later when they are at home, after saying she doesn't feel well, Carrie collapses. Throughout the day Carrie had been mentioning her shoulder had been hurting, but no one, including Carrie, thought it was anything more than a muscle strain. It was actually the precursor to a heart attack. Finley, shocked and panicked, starts doing CPR and calls 911.
Carrie is alive and well in the promo for episode 9 though, so don't worry. The promo also reveals some intense drama for Tess and Shane; Alice's continued search for the one? Plus, will Tasha Williams return? With just two episodes left this season expect some big reveals and a lot of storylines starting to wrap up.
New episodes of The L Word: Generation Q premieres on TV on Sunday on Showtime.
More on The L Word: Generation Q
Get the latest updates, reviews and unmissable series to watch and more!
Sonya has been writing professionally for more than a decade and has degrees in New Media and Philosophy. Her work has appeared in a diverse array of sites including ReGen, The Washington Post, Culturess, Undead Walking and Final Girl. As a lifelong nerd she loves sci-fi, fantasy and horror TV and movies, as well as cultural documentaries. She is particularly interested in representation of marginalized groups in nerd culture and writes reviews and analysis with an intersectional POV. Some of her favorite shows include Game of Thrones, The Walking Dead, The Handmaid's Tale and The Sandman.
Thank you for signing up to Whattowatch. You will receive a verification email shortly.
There was a problem. Please refresh the page and try again.