The L Word: Generation Q season 3 episode 7 recap — the only constant is chaos
Finely and Sophie deal with the aftermath of their breakup.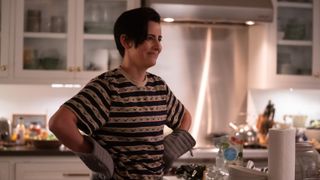 (Image credit: Nicole Wilder/SHOWTIME)
NOTE: this post contains spoilers for The L Word: Generation Q season 3 episode 7, "Little Boxes."
"Little Boxes" picks up with Finley (Jacqueline Toboni) leaving the apartment after Sophie (Rosanny Zayas) has broken up with her. Finley is struggling to stay sober, but when she calls Tess (Jamie Clayton) and Shane (Kate Moennig) they are on their way to Vegas to grapple with the death of Tess' mom. Finley ends up calling Carrie (Rosie O'Donnell) for support so she doesn't drink.
Carrie's matter of fact comfort is exactly what Finley needs. Carrie wants to make sure Finley is hydrating and eating so they make a lasagna, which Finley ruins by burning it to a crisp.
She immediately melts down and Carrie tells her that burning a lasagna is not a character flaw; one of Carrie's best lines and a much-needed reminder for Finley that not everything is a crisis. Sometimes the lasagna is just lasagna. Carrie takes Finley to her weekly bowling night to get Finley out of the house and out of her own head.
Sophie's finding herself
After breaking up with Finley, Sophie tries new things to find herself again. First she gets her nipples pierced, then she gets a glam makeover with vintage inspired hairstyle and later she's drinking and flirting hard at the Fletcher album release party Dani (Arienne Mandi) is throwing.
Dre (Carme LoBue) is also there, which is a bit awkward for everyone. Sophie and Dre hang out but when Sophie kisses them Dre lets Sophie know they're into Dani. Sophie ends up kissing a woman who turns out to be married to someone that could be important for Micah (Leo Sheng) and Maribel (Jillian Mercado) . Then she falls in the pool as Fletcher is singing, bringing the event to a halt.
Dani and Dre get closer
An exasperated Dani puts Sophie in an Uber home and they share a moment of what seems like real friendship. Their bond is still there, despite all the mess. Life, and relationships, are messy. Will this new seemingly healthy relationship they have survive Dani dating Dre?
Because by the end of the episode Dani and Dre are skinny dipping in the pool at the event after everyone else has left. Dani tells Dre she's not ready for anything serious, but Dre reveals they're still in a "situationship" with their girlfriend back home, so maybe these two will be good for each other.
Dani is definitely going to be good for Dre's career. Is Dre interested in Dani for herself or her PR services? Dani might be fine either way at this point as she's not over Gigi yet.
Alice's search for 'the one'
Alice's mystery text from episode 6 was to Tom (Donald Faison). She felt like he was "the one" that Dana mentioned in her ayahuasca vision. Tom meets with her at the studio thinking she wanted to talk about another book. She is interested in doing another book, but while she's trying to talk to him about rekindling their relationship she hears a cat trapped in a vent in her office. As they're trying to catch the cat, Alice asks Tom if they gave up too quickly and should try again. But he has moved on; he's with someone else and she's pregnant.
Alice tells him all about her vision and he starts asking her about the people she dated right after Dana, thinking Dana was telling Alice one of them was "the one." Alice mentions she kissed Lara, who was Dana's first girlfriend. Then she mentions Tasha.
Fans of the original L Word know Tasha and Alice had a romantic but fraught relationship. Tasha and Alice eventually broke up after years because their issues, mostly about class, were too divisive. Does this mention mean that Tasha will be popping up again?
In other news, they eventually do retrieve the cat and Alice adopts it.
Micah and Maribel have a donor
During the Fletcher event Micah meets Michael (William Phelps), a man who looks, talks and has the same mannerisms as Micah. Even though it seems crazy, Micah and Maribel ask Michael if he would consider being a sperm donor for their baby. Michael says he has to talk to his wife but he would be honored to help them have a child. Unfortunately, his wife ends up being the woman Sophie kissed, so Micah and Maribel are left not knowing where they stand while Michael deals with his domestic situation.
Carrie and Misty finally move forward
At bowling, Finley asks Carrie why she hasn't asked Misty (Heidi Sulzman) out yet. Carrie says hanging out with Misty a few hours a week at bowling is enough for her. But of course Finley wades right into the middle of that and makes a mess. She tells Misty Carrie has feelings for her, but Misty says Carrie isn't her type.
Carrie overhears this, ruining bowling night for her. But even though she's upset, Carrie doesn't lash out at Finley. She takes Finley home where they make another lasagna. Misty comes over as they are sitting down to eat and admits she does have feelings for Carrie. So Finley didn't ruin the relationship after all and she may have been just what these two needed to get their relationship going.
Angie learns a tough lesson
While all of this is going on Angie (Jordan Hull) goes away with Hendrix (Simon Longnight) for a reading he's doing. Feeling awkward about having sex with him for the first time, she initiates a romantic encounter before the reading. After the reading when an agent approaches him, Hendrix introduces Angie as his student, not his girlfriend. She tries to talk to him about it but he essentially breaks up with her saying he's uncomfortable dating her while she is his student. Angry, she leaves the hotel and heads back to her dorm.
Episodes of The L Word: Generation Q air on Showtime Sundays and are available to stream on the Showtime app in the US and Paramount Plus in the UK.
More on The L Word: Generation Q
Get the latest updates, reviews and unmissable series to watch and more!
Sonya has been writing professionally for more than a decade and has degrees in New Media and Philosophy. Her work has appeared in a diverse array of sites including ReGen, The Washington Post, Culturess, Undead Walking and Final Girl. As a lifelong nerd she loves sci-fi, fantasy and horror TV and movies, as well as cultural documentaries. She is particularly interested in representation of marginalized groups in nerd culture and writes reviews and analysis with an intersectional POV. Some of her favorite shows include Game of Thrones, The Walking Dead, The Handmaid's Tale and The Sandman.
Thank you for signing up to Whattowatch. You will receive a verification email shortly.
There was a problem. Please refresh the page and try again.