The Last of Us episode 7 recap: Ellie and Riley
In The Last of Us episode 7, we look back at Ellie's life leading up to when she got infected.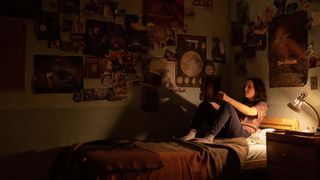 (Image credit: Liane Hentscher/HBO)
NOTE: this article contains spoilers for The Last of Us episode 7, "Left Behind".
In the latest episode of The Last of Us, we dive back into the past. As Ellie (Bella Ramsey) frantically tries to prevent Joel (Pedro Pascal) from bleeding out from the fight at the end of episode 6, despite his please to head back north to Tommy (Gabriel Luna), we're given a look at what Ellie's life was like before hitting the road with Joel.
Here's what happened in The Last Of Us episode 7.
School days
We first get to see Ellie's time in a FEDRA military school. She's in gym class, running laps with a group of girls. One of her classmates, Bethany, rips Ellie's Walkman off her head; Ellie challenges her and punches her in the face.
This scrap lands Ellie in hot water. She's brought into the office of Captain Kwong, who tells her punishing her isn't working. To steer her onto the "right" path in life, he presents her with a choice: knuckle down, train hard and land a cushy life as a FEDRA officer or she's going to end up working for — as Kwong puts it — "the Bethanys of this world." Ellie opts for the former choice.
After curfew that evening, someone breaks into Ellie's room, but Ellie overpowers them. It turns out to be Riley (Storm Reid), her best friend who had fled the school a few weeks prior.
Life of Riley
Furious, Ellie demands to know where she had been all this time. Riley reveals she has linked up with the Fireflies and promises to reveal everything to Ellie as long as she sneaks out with her.
Riley leads Ellie through the abandoned streets into an apartment building. There, they find a bottle of booze and a corpse. After their shock, they climb up to the rooftops, where they start sharing their alcohol. Riley reveals she'd been recruited by an older woman impressed by the way she snuck around and by how much she disliked FEDRA.
Riley eventually leads Ellie to an old mall she claims she'd stumbled into. FEDRA had recently connected a part of the Boston QZ to the power grid, and this mall (which the organization had sealed off, claiming it was full of infected) had also been reconnected to the grid.
Inside, Riley flips the breakers and turns on the power to all the storefronts and shows Ellie the four "Wonders of the Mall." This grows to five, though, as Ellie is mystified by the escalators they need to use to enter.
Wonders of the Mall
The duo wanders amongst the shopfronts as Ellie wonders at all the stuff that was left behind following Outbreak Day. After stopping and joking in front of an abandoned Victoria's Secret window, Riley takes Ellie by the hand to a carousel ride.
The pair enjoy a ride on the merry-go-round, but when it grinds to a halt, they share their different opinions about the Fireflies' struggle. Naively, Ellie asks if she and Riley could work together once they become officers to try and change how FEDRA runs things. This is when Riley reveals she had been assigned to sewage duty, which was part of her motivation for leaving the training facility behind, as she wouldn't get to have an impact. However, she does confess the thing she'd miss most about FEDRA would be Ellie.
The pair continue to explore the mall, taking photos together in an old photo booth and then spending some time in an arcade where Riley introduces Ellie to Mortal Kombat II. However, the noise from the arcade alerts one of the infected.
Shipping out to Atlanta
Ellie says she needs to get back in time for morning drills, but Riley says she has a present for her and leads her to the food court staff area where she's been hiding out.
The present is the second volume of joke books Ellie enjoys, No Pun Intended. Though delighted, Ellie soon spots some homemade explosives and susses out that Riley had actually been posted here by the Fireflies and is planning an attack on the QZ.
Ellie tries to rush off, but Riley confesses the reason she came to see Ellie was she wanted to say goodbye properly: the Fireflies were moving her to the Atlanta QZ and this was going to be her last night in Boston. She asked Marlene if she could bring Ellie along, but Marlene said no.
Ellie leaves, but returns to the mall after overhearing some screaming and mistaking it for Riley. She follows the noise and is confronted by some Halloween decorations, rather than Riley under attack. Riley says she thought this spot would be Ellie's favorite, so she was saving it for last.
Infected
The pair reconcile and say their goodbyes. Before leaving, though, Riley plugs Ellie's walkman into the store's sound system, hands Ellie a werewolf mask, puts one on herself and then asks Ellie to dance with her.
Swept up in the moment, the pair take off their masks and share a kiss. Their moment is interrupted by some sound in the store. Riley readies her gun and tells Ellie to get ready to run. They're then rushed by the infected monster.
Riley gets off a few shots, but the creature doesn't stop and tackles her. Whilst Riley is downed, the monster turns on Ellie. Ellie wrestles with the creature long enough for Riley to rush back and knock it off her, and then Ellie finishes it off with her pocket knife.
As they catch their breath, both teens notice they've been bitten. Riley suggests they could take "the easy way out," but both girls resolve not to give up and stick together, no matter how much time they have left.
Riley and Ellie's final moments together are interspersed with scenes of present-day Ellie looting the house she's dragged Joel into. Eventually, she comes across a needle and thread and to stitch up Joel's wound.
New episodes of The Last of Us premiere every Sunday on HBO/HBO Max in the US; Mondays on Sky TV's Sky Atlantic and NOW in the UK.
More on The Last of Us
Get the What to Watch Newsletter
The latest updates, reviews and unmissable series to watch and more!
Staff Writer at WhatToWatch.com
Martin is a Staff Writer with WhatToWatch.com, where he produces a variety of articles focused on the latest and greatest films and TV shows.
Some of his favorite shows are What We Do In The Shadows, Bridgerton, Gangs of London, The Witcher, Doctor Who, and Ghosts. When he's not watching TV or at the movies, Martin's probably still in front of a screen playing the latest video games, reading, or watching the NFL.