Tom Cruise's Jerry Maguire was no prince charming, and that's a good thing
Jerry Maguire has a universal appeal, largely because Jerry isn't perfect.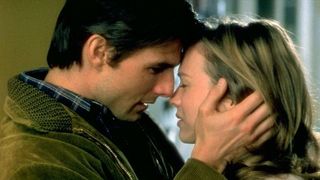 (Image credit: Film4)
Tom Cruise might be best known for his roles in the Top Gun and Mission: Impossible franchises, but his performance in Jerry Maguire turned what could have been a sappy rom-com into a movie with universal appeal.
Cruise's Jerry is a deeply flawed sports agent, initially concerned with being shown the money than finding the person that completed him. Jerry is a damaged prince charming and that's what makes his journey to finding love so universally appealing.
If it has been a while since you've last watched the movie, Jerry Maguire is about an ultra-competitive sports agent who's at the top of his game. He's got it all, but after a night of food poisoning leads to an epiphany about business practices, he drafts a mission statement that is powerful in theory but leads to his professional downfall in reality. His closest friend and colleague, Bob Sugar (played with smarmy perfection by Jay Mohr), pulls his clients out from under him. Jerry leaves his job with the company goldfish and an inspired associate, Dorothy (Renée Zellweger), as they set out to start their own company.
Jerry and Dorothy bond under the challenging circumstances and Jerry falls for Dorothy's son, Ray (Jonathan Lipnicki), leading him to think that he can have it all if he proposes to Dorothy and creates a family. Unfortunately, as his company continues to fall apart and his marriage unravels, Jerry soon discovers that he needs to change his mindset to appreciate the gifts he already has.
Jerry Maguire has to fix himself before he can have a happily ever after
We've debated whether a love story has to have a happy ending, and while the What to Watch team is divided on that issue, it's almost universally accepted that a good love story needs to have a few bumps in the road to really be satisfying. And that's where Jerry Maguire excels.
Jerry Maguire is as much a story of a man's evolution as it is a love story between two people who realize they're better together than they are apart. Jerry goes from being at the top of the world with his high-powered life to finding himself in the basement trying to win back his clients and his reputation after they're taken from him.
Cameron Crowe's brilliant script has a similar feel to Charles Dicken's A Christmas Carol. Jerry's "guides" include his only client, Rod Tidwell (Cuba Gooding Jr.) who, despite his unending desire for Jerry to "show [him] the money," also recognizes that he is nothing without his wife Marcee (Regina King) by his side.
As Jerry courts and eventually marries Dorothy, it's her sister Laurel (Bonnie Hunt) who offers him a reality check when his priorities fall out of line. Laurel's reminds Jerry that with her sister and nephew in his life, it's no longer all about him.
Then there's Dorothy's young son, Ray, who serves as a physical representation of the future family Jerry could have if only he gets his act together.
It takes a while for him to realize that the biggest obstacle standing in his way is himself. It's his ego, his hubris, that prevents him from seeing that all the success, fame and fortune in the world won't make him happy. Indeed, he admits by the end of the movie that getting what he wanted didn't mean anything because his wife wasn't with him to share in the excitement. Without Dorothy (and Ray, of course), Jerry's life has no meaning.
When Jerry tells Dorothy "you complete me" at the end of the movie, it's the culmination of his hero's journey. He's been to the brink and the only person who can bring him back is the love of his life.
Over two decades have passed since "show me the money" and "you complete me" first became enmeshed in the fabric of pop culture. Jerry Maguire endures as a beloved classic because the story of a damaged prince charming finding his way is timeless and will resonate with audiences for years to come.
You can watch Jerry Maguire right now on Netflix in the US; Sky Go and NOW TV in the UK.
Get the What to Watch Newsletter
The latest updates, reviews and unmissable series to watch and more!
Editorial Content Producer
Sarabeth joined the Watch to Watch team in May 2022. An avid TV and movie fan, her perennial favorites are The Walking Dead, American Horror Story, true crime documentaries on Netflix and anything from Passionflix. You've Got Mail, Ocean's Eleven and Signs are movies that she can watch all day long.
When she's not working, Sarabeth hosts the My Nights Are Booked Podcast (opens in new tab) and blog (opens in new tab) dedicated to books and interviews with authors and actors. She also published her first novel, Once Upon an Interview (opens in new tab), in 2022.