Tulsa King episode 9: Dwight fights for what he's built
Dwight takes New York and the Black McAdams head on in the Tulsa King season finale.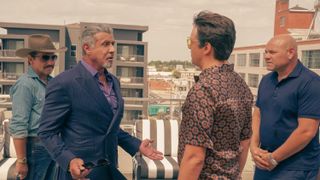 (Image credit: Brian Douglas/Paramount+)
NOTE: this post contains spoilers for Tulsa King episode 9, "Happy Trails."
The Tulsa King season 1 finale starts with a flashback back to 1997 New York. A young Chickie (Domenick Lombardozzi) and Vince (Vincent Piazza) are excessively torturing Ripple (David Deblinger) in an abandoned house. Armand (Max Casella) witnesses Chickie and Vince brand Ripple's face, so he calls Dwight (Sylvester Stallone), who immediately stops Chickie and Vince. But this leads to the brand falling onto the floor and the house setting on fire.
Dwight tells Chickie, Vince and Armand to leave, but Ripple is handcuffed to a radiator. Unable to break Ripple free and with the house engulfed in flames, Dwight does the most humane thing he can think of, shooting and killing Ripple to prevent him from burning to death.
As Dwight leaves, the fire brigade and police arrive on the scene, placing him under arrest, which leads to his 25 years in prison.
Back in the present, Dwight is once again face-to-face with two cops. This time in an interrogation room, as they question him about Stacy (Andrea Savage) being shot outside by Black MacAdams leader Caolan Waltrip (Ritchie Coster). They want to know about Dwight's relationship with Stacy. Unsurprisingly, Dwight doesn't say a thing. Since Dwight didn't commit a crime, at least in this instance, he's allowed to leave. He heads straight to the hospital to see Stacy, who survived the shooting.
He calls Stacy the toughest woman he has ever met and says he owes her his life, vowing to find Waltrip and dish out some vengeance. But Stacy has more pressing matters on her mind. With her relationship to Dwight exposed, the FBI and ATF will not look fondly on her mixing with a known felon, meaning her career is basically over.
As well as dealing with Waltrip, Dwight also has to contend with the sudden arrival of Chickie, Vince and Goodie (Chris Caldovino) in Tulsa. But rather than waiting for the New York gangsters to come to him, Dwight confronts them as they're relaxing pool-side at their hotel.
Dwight demands Chickie and Vince get out of town immediately, telling them he's built a great life for himself here without any of their help and he doesn't have to give them money anymore. Dwight even offers Goodie a job with him in Tulsa, which he accepts rather than working under Chickie. Chickie and Vince threaten to make things much more violent, but before they can put their hands on their guns, Dwight points out four of his soldiers are surrounding the pool. Thoroughly outnumbered, Chickie and Vince depart back to New York.
With his New York problems now settled, Dwight focuses on Waltrip. He tells his make-shift crime family — Tyson (Jay Will), Mitch (Garrett Hedlund), Grace (McKenna Quigley Harrington) and Fred (Justin Garcia-Pruneda) — that they're going to war with the Black MacAdams. In a stirring speech to his new family, he says they have to fight past fear of what's coming.
Unlike his confrontation with Chickie and Vince, Dwight wants Waltrip to come to him. Using his technical wizardry, Bodhi (Martin Starr) is able to hack into Waltrip's computer and seize the $8.2 million he has stolen over the years. Dwight even gives $1 million of this money to Stacy as a thank you for saving his life and a sorry for ruining her career.
Waltrip responds exactly as Dwight wanted him to. Alongside the rest of the Black MacAdam bikers, they try to ambush Mitch's bar. But Dwight and his posse are waiting for them. A shoot-out unfolds, set to the Phil Collins classic "In the Air Tonight."
It's not all smooth sailing, as Tyson and Armand are both shot in the fight (though they survive). Ultimately, all of the Black MacAdam bikers are killed and Dwight gets into a hand-to-hand fight with Waltrip. Of course, there was always only going to be one winner. Dwight grabs hold of Waltrip's throat, hangs him up on a pair of decorative deer antlers and then shoots him through the head.
Three months later at the Fennario horse ranch, Dwight happily watches his grandkids, who are visiting with his daughter Tina (Tatiana Zappardino). She even calls him dad for the first-time and life is seemingly now bliss for Dwight.
Tina is in town for the grand opening of Dwight, Mitch and Jimmy's (Glen Gould) new casino. At the soiree to mark its launch, money is already piling in. Mitch even decides to sing "Never Been to Spain" in dedication to Dwight, who dances with Tina.
The pair are interrupted by Fred, who says a woman is waiting outside for Dwight. It's Stacy. Turns out she was able to keep her job at the ATF, but only in exchange for helping bring down Dwight. She told the FBI about the $1 million Dwight sent her, which they consider a bribe. Dwight is arrested, charged and placed into the back of a police van, just as Tina comes outside to see her father being taken to prison for the second time in her life.
This brings Tulsa King season 1 to a swift, mostly entertaining, but undeniably uneven conclusion. Tulsa King really felt like it sped towards its finale. Not only were the last two episodes shorter than most of its predecessors, but the storylines felt rushed and at times inconsistent. This isn't enough to wreck what has been an entertaining, if cliched, show, especially anchored by a compelling leading performance from Stallone.
But, ultimately, especially in its finale, Tulsa King's big confrontations didn't explode in a satisfying or dramatic enough manner, while it was too focused on making Dwight likable and redeemable.
With Tulsa King season 2 already confirmed, let's hope a little more of the complexity that made Terrence Winter's shows like The Sopranos and Boardwalk Empire so intriguing and impactful. Because making Tulsa King more cohesive and nuanced could take the show to another echelon of quality, rather than it just being enjoyable.
All of Tulsa King season 1 is now available to stream on Paramount Plus.
More on Tulsa King
Get the latest updates, reviews and unmissable series to watch and more!
Born and raised in England but now based in Philadelphia, Gregory Wakeman has written for the BBC, New York Times, The Guardian, GQ, and Yahoo Movies UK, all while defiantly trying to keep his accent.
Thank you for signing up to Whattowatch. You will receive a verification email shortly.
There was a problem. Please refresh the page and try again.