Tulsa King episode 8: the walls are closing in on Dwight
The Black McAdams and New York show their hands.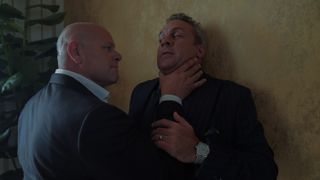 (Image credit: Brian Douglas/Paramount+)
NOTE: this post contains spoilers for Tulsa King episode 8, "Adobe Walls."
Now that war with Caolan Waltrip (Ritchie Coster) and the Black MacAdam biker gang is inevitable, Dwight (Sylvester Stallone) has to get his own troops into shape.
The Black MacAdams have already proven they can hit at any time, so Dwight and Mitch (Garrett Hedlund) decide to hold shooting practice for a reluctant Bodhi (Martin Starr), over-confident Tyson (Jay Will) and Fred (Justin Garcia-Pruneda), the portly security guard. They each prove to be hopelessly inept. Mitch even goes as far as to call them the Bad News Bears of criminals. Unsurprisingly, Dwight asks Mitch to recruit some of his former rodeo buddies, who have since become criminals, to help in their fight.
The only member of Dwight's Tulsa posse to excel with a weapon is Grace (McKenna Quigley Harrington). She then lambasts Dwight for putting all of them in danger and demands he acts like the leader he says he is by actually dealing with Waltrip and keeping them safe.
As well as recruiting Mitch's pals, Dwight also asks the Higher Plane's weed supplier Jimmy (Glen Gould) if he has some more henchmen like Bad Face (Jonathan Joss) who can join him in his impending battle with the Black MacAdams. Jimmy says yes, while also agreeing to be a partner in Dwight, Mitch and Bodhi's proposed casino, which proves that Dwight has no intention of stopping his criminal activities in Tulsa.
Rather than just waiting for Waltrip to strike, Dwight and Tyson stakeout his headquarters. While there, Tyson spots the two police officers who arrested him for no reason and the pair immediately realize Waltrip has the cops on his side, too.
Waltrip needs these connections at the moment, as Stacy (Andrea Savage) has really intensified her pursuit of him. Following his murder of Roxy (Emily Davis), Stacy confronts Waltrip outside the Black MacAdams headquarters. But he laughs off her questions, much to her fury.
Stacy is becoming increasingly reckless. During her therapist session, he accuses her of drinking more and putting her career on the line, while she insists she is actually handling her problems by getting "s*** done."
That's especially true when the FBI meets up with Stacy and her partner, Hendricks (Miles Mussenden), to discuss Dwight's growing criminal activity. Stacy instead uses this as an opportunity to keep Dwight out of harm's way before moving the focus onto Waltrip. Thanks to Roxy's insider information, Stacy knows there is proof of Waltrip's wrongdoings inside the headquarters.
Stacy's plan works. The FBI approves her mission to raid the Black MacAdams bar and she finally gets her hands on Waltrip's computer. Even Stacy is shocked by what she discovers. Not only does Waltrip have over $8.2 million in the bank, but he's been stealing from credit cards, cryptocurrencies and real estate across the city.
With the walls closing in on Waltrip, and his drug intake dramatically increasing, too, he tells his corrupt cops to arrest Dwight and put him in prison, where he'll be able to kill him easily. But when the officers pull over Tyson and Dwight, he convinces them he has his hand on a magnum and can kill them both before they're even able to shoot him. Whether or not they believe him is debatable, but they are certain working for Waltrip isn't worth this much trouble, so they leave Dwight alone and tell Waltrip they can't find him.
Being in such a perilous situation has other repercussions for Dwight. When Tina (Tatiana Zappardino) calls him after Emory's (Loren Dunn) brutal mugging, she says she does actually want to move to Tulsa, he has to turn her down.
One person who is planning on going to Tulsa is Chickie (Domenick Lombardozzi). After murdering his father, Pete (AC Peterson), and becoming the new boss of the Invernizzi crime family, Chickie declares his plan to kill Dwight. But rather than going into Tulsa all guns blazing, Chickie calls up Dwight and says he wants to move past all of their infighting and arguing and bury the hatchet.
Dwight can tell that something is amiss, but, nevertheless, agrees to peace and Chickie's visit. As soon as Chickie hangs up the phone, though, Vince (Vincent Piazza) commends his acting, while Chickie even calls Dwight a "f****** piece of s***."
As "Adobe Walls" come to a conclusion, Stacy decides to confront Dwight outside of his hotel. She says now that Waltrip is on the cusp of being arrested and the FBI are off Dwight's tail, he should move on to another city. Dwight doesn't seem interested, though. Instead he uses this time to accuse Stacy of being jealous, especially since he's been spending more time with Fennario horse ranch owner Margaret Devereaux (Dana Delany).
Before she can properly respond, though, Waltrip and another member of the Black MacAdams ride up alongside Stacy and Dwight and shoot at the pair. In the gunfire, Stacy kills Waltrip's sidekick, only to get shot in the stomach herself. Dwight shoots at Waltrip as he rides away, before tending to the gravely injured Stacy.
As Dwight puts pressure on Stacy's bullet wound, the police arrive. The episode ends with an emotional Dwight surrounded by officers and, seemingly, on the cusp of being arrested. Once again, it's not just Dwight getting hurt because of his criminal actions. Instead it's the people closest to him that actually get the brunt of the pain.
With just two episodes left, and all of his enemies soon to be in Tulsa, plenty more blood will almost certainly be shed as Dwight seeks to gain revenge and maintain power.
New episodes of Tulsa King release on Paramount Plus Sundays in the US, Mondays in the UK.
More on Tulsa King
Get the latest updates, reviews and unmissable series to watch and more!
Born and raised in England but now based in Philadelphia, Gregory Wakeman has written for the BBC, New York Times, The Guardian, GQ, and Yahoo Movies UK, all while defiantly trying to keep his accent.
Thank you for signing up to Whattowatch. You will receive a verification email shortly.
There was a problem. Please refresh the page and try again.