Who is Jackalope on The Masked Singer US?
The mysterious Jackalope has fans wondering who's under the mask.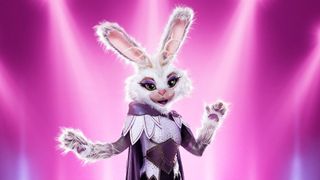 (Image credit: Michael Becker/Fox)
The jackalope is a mythical creature tied to North American folklore. It's a cross between a jackrabbit and antelope, with a rabbit's body and antelope horns on the top of its head. While it might not be a real creature, the Jackalope is a very real singer who made her debut on Sesame Street Night on The Masked Singer.
Jackalope made her debut along with fellow competition newcomer Fairy, and they went up against last week's champion, Squirrel. Squirrel won the Battle Royale, but the judges gave Gargoyle a second chance with the brand new Ding Dong Keep It On save feature.
Jackalope was up against some tough competition, but never count Jackalope out. They're mythical creatures, after all, and they know how to do a bit of razzle dazzle. While Jackalope made it to the Battle Royale, their turn on the show was short lived as they lost out to Fairy.
So who is Jackalope on The Masked Singer? Let's look at the clues to see if we can figure it out.
Who is Jackalope on The Masked Singer US?
Jackalope ended up being social media star Lele Pons.
Who is Jackalope on The Masked Singer US? Song picks
What a performance Jackalope! That was real Shakira energy #TheMaskedSinger @MaskedSingerFOX @RealityClubFOX pic.twitter.com/sIlcIC7pbNMarch 16, 2023
Jackalope gave fans major Shakira energy with her performance of "Wherever, Whenever" by Shakira.
Who is Jackalope on The Masked Singer US? Clues
Sesame Street Night Clues:
Celebrity Clue, delivered by The Count: A sign that says "30 Under 30." Jackalope said, "Donald Glover, Emma Stone and Michael B. Jordan. It is an honor to be on the same list."
Voiceover Clue: "I'm so excited to step into the ring on Sesame Street Night because I also love entertaining audiences of all ages. While I'm known to have a lot of influence, you'd be surprised that I wasn't very social. Talking as a kid wasn't my jam. So, growing up, I pioneered other ways to express myself through music and dance. Pretty soon, people all over the world began connecting with me and what I do because this Jackalope don't lie. Posting about your problems to millions of strangers may seem crazy, but being vulnerable gives me strength. I've created a modern family of outcasts and together we've defined an industry. My kind of notoriety has its fair share of trolls. But I've learned to have a thick skin in my arena. So, my competition better watch out because this bunny's moves shine brightest on Wednesdays."
Who is Jackalope on The Masked Singer US? Costume clues
Have you ever met a Jackalope? Well, The Masked Singer's Jackalope is elegant and powerful. She strikes quite an image with a purple-hued costume. Her tall ears and white antlers highlight her purple eyes, which are vibrant and full of life, and maybe a little mischief.
She's got a purple leather-accented outfit complete with leather shoulder pads and a leather cape. Is the leather a clue?
Who is Jackalope on The Masked Singer US? Guesses
Both Nicole Scherzinger and Robin Thicke guessed that Jackalope was Lele Pons while Jenny McCarthy Wahlberg guessed Jenna Ortega and Ken Jeong guessed Selena Gomez. Guest judge Jennifer Nettles guessed Camilla Cabello.
The Masked Singer season 9 airs Wednesdays at 8 pm ET/PT on Fox.
Get the What to Watch Newsletter
The latest updates, reviews and unmissable series to watch and more!
Editorial Content Producer
Sarabeth joined the Watch to Watch team in May 2022. An avid TV and movie fan, her perennial favorites are The Walking Dead, American Horror Story, true crime documentaries on Netflix and anything from Passionflix. You've Got Mail, Ocean's Eleven and Signs are movies that she can watch all day long.
When she's not working, Sarabeth hosts the My Nights Are Booked Podcast (opens in new tab) and blog (opens in new tab) dedicated to books and interviews with authors and actors. She also published her first novel, Once Upon an Interview (opens in new tab), in 2022.