Who is Fairy on The Masked Singer US?
Fairy's sultry voice has fans buzzing.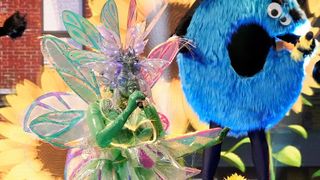 (Image credit: Michael Becker/Fox)
Fairy arrived on The Masked Singer during the show's Sesame Street Night. She was joined by fellow newcomer Jackalope, and they'll both go up against last week's champion, Squirrel.
With two competitors to face, Fairy had an uphill battle on Sesame Street Night, but she's a fierce competitor and she handled the pressure with ease. She faced off against Squirrel in the Battle Royale, which means she'll move on to sing in next week's show.
There's something about Fairy that makes her voice seem familiar so we're very keen to know who she is.
Let's look at the clues to see if we can figure out who is Fairy on The Masked Singer.
Who is Fairy on The Masked Singer US?
After dazzling the crowd during Sesame Street Night, Fairy mask's run came to an end on Country Night. Under the mask was none other than Holly Robinson Peete.
Who is Fairy on The Masked Singer US? Song picks
Sesame Street Night:
Thanks to the preview of The Masked Singer Sesame Street episode on TV, we know that Fairy sings Linda Ronstadt's "You're No Good" and she absolutely nails it. She has a sultry, soulful voice that sounds so very familiar.
Country Night:
Fairy sings "Angel from Montgomery" by Bonnie Raitt on Country Night. If you didn't know better, you'd think she's used to singing country songs. Is that a clue?
In the Battle Royale, Fairy and Macaw both sang Shania Twain's "That Don't Impress Me Much."
Who is Fairy on The Masked Singer US? Clues
Sesame Street Night Clues:
Celebrity Clue: A paper plate that says "Endless love"
Voiceover Clue: "Making my debut on Sesame Street Night makes me feel right at home. Because I grew up on these streets. Some might say I'm a bit of a nepo-fairy, I mean, while other kids had allowances, I made my pocket money charging the neighborhood kids to come over and see my dad just hanging out at home. I definitely could have taken a more direct route to fame, like some of the friends that I grew up with. But I chose a more divergent path, prioritizing my education and traveling the world. Eventually my destiny led me back to the limelight of Tinseltown. I guess office work just wasn't for me. I got to pursue two of my loves: Singing and acting. Now it's time for me to sing a song from my favorite 'Sesame Street' resident. Because why he may be grumpy, he's an old friend."
Country Night Clues:
Celebrity Clue: Blackjack (21). "I know something about winning. And with this hand, I could really take you to school."
Voiceover Clue: "It feels so good to take the champion title last week. Linda is a dear friend, so I had to do her song justice. She's been rooting for me since I was 13. You see, music is a huge part of my life and I'm loving every second I'm on stage. But two new challengers are looking to send me home. I say, bring it. I'm so excited that tonight is country night. There's something about country music that sticks to your ribs. Tonight, I'm singing a song that I loved as a little girl, by an artist that I still look up to. It's a true classic in my book, like this new clue. [A book that says 'Fairy's Tales.'] Any guesses?"
Who is Fairy on The Masked Singer US? Costume clues
There are costumes and then there are costumes. Fairy's costume is nothing short of exquisite with its color palette of greens and purples.
Her lavender wings are translucent and ethereal, with sparkly accents befitting a majestic fairy. Under the glittery wings and feathery ruffles is a green bodysuit. She really looks like she could be the fairy responsible for welcoming the spring. Could this be a clue that Fairy is somehow connected to spring or nature?
We don't know who Fairy is, but we suspect that she's as elegant in real life as she is in costume.
Who is Fairy on The Masked Singer US? Guesses
The panelists were split about Fairy's identity. Their guesses on Sesame Street Night included Tracee Ellis Ross, Angelina Jolie and Rashida Jones.
On Country Night, the panelists guessed that Fairy could be Tracee Ellis Ross, Corrine Foxx, Lori Harvey or Jennifer Aniston.
The Masked Singer season 9 airs Wednesdays at 8 pm ET/PT on Fox.
Get the What to Watch Newsletter
The latest updates, reviews and unmissable series to watch and more!
Editorial Content Producer
Sarabeth joined the Watch to Watch team in May 2022. An avid TV and movie fan, her perennial favorites are The Walking Dead, American Horror Story, true crime documentaries on Netflix and anything from Passionflix. You've Got Mail, Ocean's Eleven and Signs are movies that she can watch all day long.
When she's not working, Sarabeth hosts the My Nights Are Booked Podcast (opens in new tab) and blog (opens in new tab) dedicated to books and interviews with authors and actors. She also published her first novel, Once Upon an Interview (opens in new tab), in 2022.