You season 4 episode 4 recap: A weekend getaway ends in bloodshed
You season 4 episode 4 sees Joe try and expose the killer at Lady Phoebe's country mansion.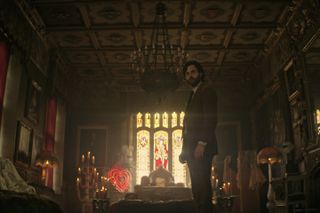 (Image credit: Netflix)
When vacationing in Europe, a weekend getaway in the country is a must — but this is far from a peaceful holiday for Joe when he receives an invite to Lady Phoebe's (Tilly Keeper) country house in You season 4 episode 4.
Seeing it as a perfect opportunity to try and unmask his stalker, he's forced to deal with the narcissistic rich socialites and come face to face with yet another murder, seemingly caused by the hands of someone very unexpected. Are they the Eat The Rich Killer?
With the idyllic country house transformed into a bloody crime scene, here's what you need to know about what happened in You season 4 episode 4.
Off to Hampsie
Joe is rattled to see the police unexpectedly show up at Sundry House wanting to question him further, but he's soon relieved when the police thank him for the tip off as it helped them to confirm Malcolm's dangerous dealings he was involved with.
Despite his unassuming charms working once again, Joe remains on edge for when the killer might suggest a meeting point, until Lady Phoebe invites him to her country mansion called Hampsie aka Hampsbridge House.
Joe initially refuses but he soon realizes that the weekend getaway could be an opportunity to help him finally unmask his stalker and he agrees.
When he arrives at the luxurious country mansion (or Downton Abbey as Joe describes it) he's thrown into the lion's den, with the lion's being the terrible Oxford group.
Gemma (Eve Austin) wastes no time in being hateful towards Joe and Roald (Ben Wiggins) seems to have an unexplained resentment for Joe.
Meanwhile, Kate (Charlotte Ritchie) feels very uncomfortable having two mysterious security guards with her as she voices her complaints to Lady Phoebe who tells her to "ignore them".
If dealing with the conceited socialites wasn't enough, Joe soon discovers that he has no cell service or Wi-Fi and the building is swamped with heavy security.
On top of that, he also finds out that his room is connected to Kate's making things much more awkward due to their previous romantic encounter.
A killer invite
Joe receives another clue when an envelope is posted beneath the door inviting him to the portrait gallery.
Hoping that it's from the killer, Joe brings a weapon and sneaks to the portrait gallery, but is stunned by what he finds.
He discovers that the room has been transformed into Lady Phoebe's boudoir where she attempts to seduce Joe, but he politely stops her and she seems hurt by his rejection.
Lady Phoebe soon reveals that she's having problems in her relationship with Adam (Lukas Gage) and Joe gives her some reassuring words, while conjuring up a lie about his ex-wife.
Later on, as Joe desperately tries to find cell service, he witnesses a disturbing game of croquet where Gemma forces one of the servants to be one of the hoops on all fours.
Adam invites Joe to have a private drink with him and Joe thinks that he's being summoned by his elusive stalker. However, Joe's soon discovers that Adam only wanted his advice about his plan to propose to Lady Phoebe.
During their conversation, Joe's suspicions are soon sparked when Adam tells him that it was Roald's idea to invite him to Hampsie. Now Roald becomes Joe's number one suspect.
Let the hunt commence
As Joe returns to his bedroom, he unintentionally interrupts Kate who is arguing with a security guard in the hallway.
She confronts him, but her steely demeanour fails to hide her lust for Joe and the pair begin to have a passionate moment. However, Joe stops before they go too far.
Soon after, Roald knocks on Kate's door and invites her for a swim. When he leaves, Joe questions Kate about her long-time friendship with Roald (now, his prime suspect) and discovers that Roald is in love with Kate, which gives him the motive to kill her boyfriend Malcolm and Simon, whose art scam would have threatened her career.
Determined to get proof of his crimes, Joe sneaks into Roald's room and finds a camera containing pictures of Kate that he had secretly taken. Joe soon realizes that Roald is obsessed with Kate and when they bump into each other in the hallway, he thanks Roald for inviting him and says that it's a good opportunity to get to know each other better. But Roald seems unimpressed by his suggestion.
The next day at breakfast, Kate is visibly disgusted by Gemma's vile attitude towards the servant and tells Joe that she despises Gemma.
As Kate leaves the table, Roald asks her if she wants to play tennis but she rejects his offer, which Joe sees.
After noticing that Joe witnessed the rejection, an embarrassed Roald suggests that they go hunting together.
As the pair go hunting, a sinister Roald goes to extreme lengths to prove how well he knows Kate by telling him the tragic story about her mother Greta and forcing Joe to kill pheasants.
With Roald hinting towards the lengths he would go to protect Kate, Joe believes that he's about to confess to the murders. But Roald's pure hatred towards Joe is soon revealed when he points the gun at Joe's head.
Before he can potentially pull the trigger, Kate interrupts their hunt and is furious to see Roald tormenting Joe.
Later on, as Joe gets ready to have dinner with the group, he and Kate give in to temptations once again and have sex.
A little party never killed nobody
The Eat The Rich Killer is the main topic of conversation at the dinner table, with Roald personally attacking Joe and Gemma accusing him of being the killer.
As Kate comes to Joe's defense, it's not long before she becomes Roald's next target as he maliciously attacks her character, taunting her about a secret that she's hiding from Joe. He also claims that she's the worst of them all because of her family legacy.
But before things could get even more tense, they're interrupted by Lady Phoebe pretending to be dead, which sets their murder mystery game in motion — a tradition they refuse to drop despite a real killer being on the loose.
Joe steps out of the murder mystery game and finds Kate alone in the stairway. She opens up to Joe about her family, admitting that she hasn't worked for her wealth but comes from a family richer than everyone else's.
She confesses that her father is a corrupt businessman called Tom Lockwood who has committed heinous crimes in order to get money.
Kate reveals that she cut ties with him because of what he did and is furious that he sent security guards to protect her.
The pair have a heart-to-heart, where Joe connects with Kate by also sharing details about his past. They nearly kiss and Joe realizes that he's falling in love with her.
Joe is still focused on trying to prove that Roald's the killer and searches his room once again while the group are busy playing the murder mystery game.
However, Roald catches him in the act and tries to attack him with a candlestick holder, before pushing Joe out of the window.
The hedges manage to break his fall and as a stunned Joe limps away from the scene, he hears a scream come from the mansion.
Thinking that it's Kate, he rushes in to rescue her, but when he enters Kate's room, he's shocked by a devastating discovery.
He sees Kate sitting by Gemma's dead body holding a bloody knife and he fears the worst — did Kate kill Gemma? Is she the Eat The Rich Killer?
Once again, it seems like Joe's worst nightmare could be coming true...that the woman he falls for could have a murderous streak.
Get the What to Watch Newsletter
The latest updates, reviews and unmissable series to watch and more!
Grace is a digital writer with WhatToWatch.com, where she writes series guides for must-watch shows and the latest TV news. She graduated from Anglia Ruskin University in 2020 with a degree in Writing and Film Studies, which only made her love for creative writing, film and TV grow stronger.
You'll usually find her watching the drama unfold in the latest reality series and much-loved soaps (usually with chocolate by her side!). Grace also likes to explore new places with her friends and family and, of course, watch and read about the latest films and TV series.