Holby City fans gutted that next week's episode has been postponed for a day!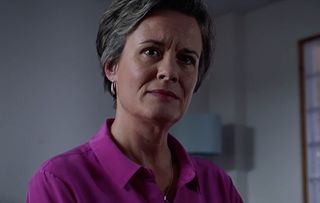 (Image credit: BBC)
New update - Scottish fans will also have to wait until Wednesday
Holby City viewers got shock news last night when the BBC revealed that next Tuesday's episode has been moved to the Wednesday due to the football.
Fans are eager to see the return of favourite Serena Campbell (played by Catherine Russell, who's chatted to us about her return), but Holby announced they'll have to wait 24 hours for her comeback because the Beeb is now showing an FA Cup replay on Tuesday.
Some viewers took the news calmly, with one writing "don't think I've missed an episode for eight years. Think I'll make it work."
Others pondered why the Beeb couldn't just move the football match or show it on BBC2.
Another wrote: "Since when does football take priority over Holby City's doctors and nurses saving lives!!? I will of course be ready and waiting for this ep."
In a further twist, Holby City originally revealed that viewers in Scotland will get to see the episode on Tuesday before the rest of the country. But then revealed the episode would in fact be shown on Wednesday on in Scotland at 10.45pm.
Speaking to us about why Serena is back next week, actress Catherine Russell told us: "Following the hospital shooting and the death of his son, Holby boss Hanssen isn't in a good place emotionally, so he's asked Serena if she'll come back as Acting CEO, while he goes away and sorts himself out. Meanwhile, consultant Ric is in prison, medic Oliver still has a bullet in his head and doctors Raf and Jasmine are dead. For Serena, it's peculiar, weird and sad walking back into a working environment that's completely changed…"
Holby City will continue next WEDNESDAY on BBC1 at 8pm - in Scotland at 10.45pm.
Get the latest updates, reviews and unmissable series to watch and more!
Thank you for signing up to Whattowatch. You will receive a verification email shortly.
There was a problem. Please refresh the page and try again.